Regret is something I've struggled with for many years. Many people do, evidently. Much has been written about it, even in the lyrics of popular songs like Mary Chapin Carpenter's "Almost Home" where she sings, "There's no such thing as no regrets."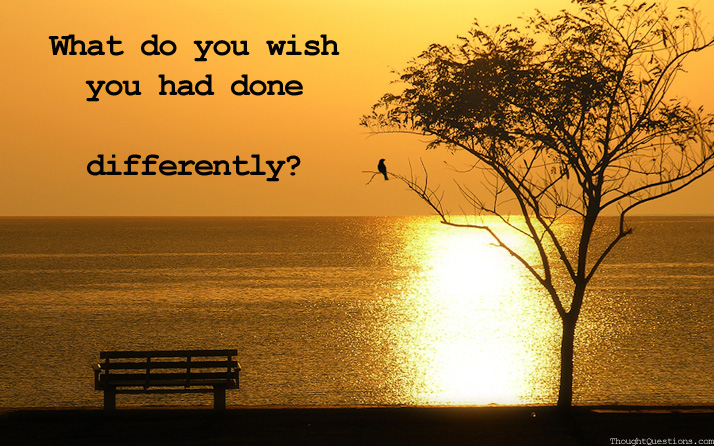 Let's look at the word, regret, which is both a verb and a noun:

First the verb: feel sad, repentant, or disappointed over something that has happened or been done, especially a loss or missed opportunity.
And the noun: a feeling of sadness, repentance, or disappointment over something that has happened or been done.
Whether we are actively regretting (verb) something, or looking at our present or past regrets (noun) there's much to be learned from this powerful word. All of us who have regrets (who doesn't?) share some common emotions:
Sadness. I am sad because many of my actions have hurt others or myself, which can either lead to depression and despair, or to…
Repentance. A healthier way to respond to the bad choices I've made—especially the ones that were deliberate.
Disappointment. This is probably the most common emotion I attach to regret. I am disappointed in myself, in others, and in the situations that arose from missed opportunities and bad choices.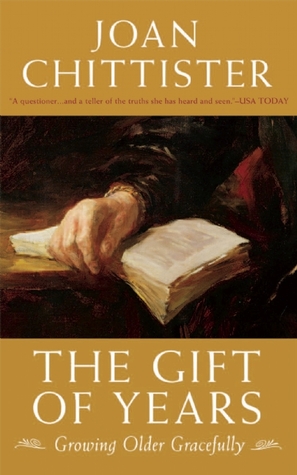 This morning I started reading a book (another one of those that I can't remember who recommended) by Joan Chittister, OSB called The Gift of Years: Growing Older Gracefully. Sister Chittister is a member of the Benedictine Sisters of Erie, PA, and the executive director of Benetvision, a resource and research center for
contemporary spirituality. The author of over 50 books, Chittister currently serves as co-chair of the Global Peace Initiative of Women, a partner organization of the UN. All that to say she's quite accomplished and speaks and writes with authority on many subjects. But I was attracted to her book on aging because that's where much of my focus is currently. The Gift of Years contains 40 short chapters, and I'm looking forward to reading all of them—perhaps I'll take a chapter a day, like a devotional meditation on aging. Or perhaps I'll devour them more quickly. I'm not making any rules. But I do find it interesting that her book of one-word chapters like Joy, Transformation, Mystery, Freedom, Memories, Spirituality, and Faith begins with a chapter on Regret. Well, after an introduction titled "The Purpose of Life." Chittister was 70 when she wrote this book, so she had seven decades to reflect back on her life as she wrote.
She calls regret "one of the ghosts of aging" that prods us to question everything we've ever done. Not a healthy practice, as she says:
This compulsion to look back, to explain to myself, to others, why I did what I did—or, worse, to justify why I didn't do something else—is one of the most direct roads to depression we have…. The thought of what could have been eats at the center of the heart. It pretends to be reflection, a kind of tally of the years. But down deep it feels more like failure than it does like understanding…. We find ourselves beginning to rethink everything we've ever done.
This practice isn't something I've only recently begun. I've been at it for a couple of decades now. Some of the regrets I deal with:
Not finishing college.
Staying in a cult-like group for the first 17 years of my marriage.
Cutting myself off from friends—and sometimes family—during those 17 years.
Being an overly-controlling mother.
Not continuing art studies after college. (Iconography was a substitute.)
I could go on, but I think that's enough for a public confessional. And speaking of confessionals, it's interesting that when I look at those regrets, only one of them is something I have ever felt I needed to repent of—the overly-controlling mother part. The rest aren't "bad" things I did, just choices I regret. So how can I get over those feelings? Chittister says:
Regret is a temptation. It entices us to lust for what never was in the past rather than to bring new energy to our changing present. It is a misuse of the aging process. One of the functions—one of the gifts—of aging is to become comfortable with the self we are, rather than to mourn what we are not.
This is helpful. There are many things in my life to which I am bringing new energy—my writing, hosting literary and women's salons in our home, my marriage, renewed relationships with my children and grandchildren.  And maybe I wouldn't have that new energy without tapping into some of the positive sides of regret. Yes, positive, as Chirtister explains:
The fact is that the twinges of regret are a step-over point in life. They invite us to revisit the ideals and motives that brought us to where we are now.
In revisiting those ideals and motives in my own life today, I find that I still have the drive to continue my education, whether or not I ever get that college degree. For the past fifteen years I've participated in dozens of workshops and conferences (I've even organized and directed several) involving art or writing. And although I'm still not thankful for the 17 cult-like years, most days I'm thankful that they landed me in the Orthodox Church where I find my spiritual home. And yes, that part of my journey definitely feeds my writing. I've made efforts to repair the split with some of those old friends and family members, and maybe more importantly, I've made new friends who enlighten the path I'm traveling now. I've asked my children's forgiveness for my failures as a mother and I've watched them become amazing, loving, patient, creative parents of their own children, with whom I have fallen deeply in love.
So now I'll move forward living with the twinges of regret, not focusing on what might have been. Stay tuned for more of Chittister's wisdom on future Mondays.