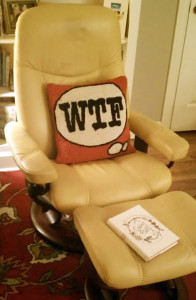 In July of 2012, I did a short post titled WTF.
The expression returned to me yesterday and today, as I was dealing with several inconveniences, including (but not exclusively):

Changing a hotel reservation. This shouldn't take a brain surgeon's IQ, but I swear it was a nightmare. Here's the skinny: I had made a reservation for my daughter, my granddaughter and I to spend one night in a hotel in Jackson, Mississippi next week. But our plans changed, and when I contacted the hotel to change the reservation to a different night, and then to add one more night, the email from the hotel said they couldn't change the reservation because it had been made through Expedia.com.

I have never used Expedia.com. Or at least not on purpose. But evidently when I clicked on what I thought was the usual link to the hotel (where I've stayed many times in the past) I must have accidentally linked on a different site. So, I made new reservations, and then proceeded to Expedia.com to cancel the original one.
Many frustrating attempts later—including creating an Expedia.com account since I didn't have one—they still could not find my reservation, and suggested that perhaps I had used their partner, Hotels.com. So I finally went to the Hotels.com web site—which I had also never used, on purpose—and entered my reservation number and voila! There it was. Today I was finally able to cancel the reservation.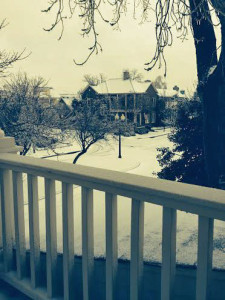 This might not sound as frustrating as it was, but my husband and I both had a restless night last night, due to pain from our injuries. And in the middle of all of this we had a little winter storm here in Memphis and our power went out for several hours. As the temperature inside our house reached down into the low 50s, we packed up our laptops and cell phones and chargers and headed out the door. Only the electric garage door opener wasn't working, so together (with my husband recovering from rotator cuff surgery and me still recovering from a broken neck) we were barely able to get the door opened and drive out the garage to a nearby boutique hotel lobby, where we spent a few warm hours with our electronics and some hot soup by the lobby fireplace. We are just now (at 5:30 p.m.) back home with electricity working and I'm finally getting my Monday blog post up.

As I read this, I realize it really doesn't sound very frustrating. What is it that I'm not saying here? Today is Clean Monday… the first day of Great Lent for Orthodox Christians. For the most pious, the fast today means no food and only water to drink. Or maybe a few dried fruits and some nuts. But I'm thinking that an ascetic struggle can come in more than one color. The self-chosen and the other-chosen. Since the other-chosen struggle for me today included the freezing weather and a power outage, I treated myself to a bowl of tomato soup and a glass of wine at the hotel this afternoon. Lovely music was piping into the lobby and some of our Harbor Town neighbors were coming in and out for a warm respite from their powerless homes. I can't really say that we were suffering. And now we're home and back to our "normal" lives. My husband missed a day at work and I missed a physical therapy appointment and some time to work on preparations for our move, which begins one month from today. (It's a three-day move. More on that later.)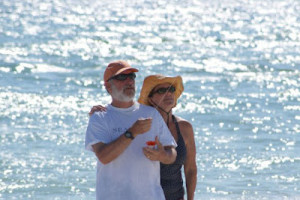 As the sun sets behind the snowy sky over the river this afternoon, I struggle not to be frustrated at all the work I didn't get done today, and to just be thankful instead that our power is back on, we are warm and dry, and neither of us fell and broke something on the ice today. Yep, I'm gonna' put a positive spin on this at the end of the day. I'm gonna imagine we're at the beach flying kites on Clean Monday.