I've been busy with travel and books, so forgive me for not posting here in a while! Today I'm going to write about something FUN. It all started three years ago . . .
During Covid, like lots of other folks, we decided to do some home renovations. We started with our kitchen (I don't think I blogged about it so I can't find the photos) and got all new stainless appliances to replace the out-dated white ones: refrigerator/freezer, double oven, dishwasher, microwave, and stove top. The re-do really lifted my spirits, especially during Covid! (Some of those appliances were 25 years old!)
Then we got in touch with a builder who lives in our neighborhood and has built over 40 swimming pools. Swimming pool? On our tiny lot? It's true that we only have a very small bit of a side "yard" . . . right outside the sliding glass doors which lead from my office (and our exercise room . . . with an elliptical machine) into what was a small little Oriental garden, built with the house in 1998. Where could be put a pool?
My husband had experienced several of those swim-in-place pools with the jets that blow the water against you for resistance, so we began to research them. And yes, our builder said he could do that in our space. He could even build a fountain, a small deck, and a nice fence! He said that in 2020. Now it's almost October of 2023, and it's finally becoming a reality! Why has it taken so long?
To begin with, everyone and their brother was doing home renovations in the 2020s, so we had to get in line with our builder. Then there were/are unbelievable "rules" we had to follow with our home owners' association here in Harbor Town. We finally had our plans approved by the official neighborhood architect—who had been with the neighborhood since its beginning in 1989—when he retired and the new guy decided to look back at the neighborhood's "original rules" . . . . which were especially difficult where fences were concerned. I went out and photographed 19 fences that broke those rules, but he wouldn't budge. We finally agreed with our builder to do some compromises . . . and we were off and running. Or so we thought.
Of course there were post-Covid supply chain issues and other things that delayed the beginning of the project. But we got started in July, and now, almost three months later, it's beginning to look like a real pool!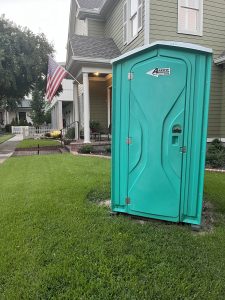 One day we came home from a trip and cracked up laughing as we approached our beautiful corner house—the one that used to have a beautiful cherry blossom tree in the front yard that died from ice storms—to find this porta potty for the construction workers right where the tree had been dug up. I'm sure it seemed like an idea spot for it, since there was no grass on the spot yet. But it's definitely an eye sore, and finally some neighbor(s) complained to our HOA and they asked us to move it. But WHERE?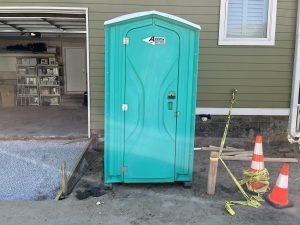 There is literally no room in the alley behind our house, where the short driveway coming out of our garage had been dug up for pool plumbing/pipes. But once those pipes were in and covered with dirt, a space became available, so they were able to move the potty there yesterday! Next up comes concrete and stone pavers around the pool, building the fountain, finishing the inside of the pool, finishing the fence, and some issues with plumbing. We will heat the pool in the winter, so we'll be happy whenever it's finished! Stay tuned for more pictures in the future. (Oh, and I guess I won't get to decorate the porta potty to look like Santa's workshop in December . . .  hopefully it will be gone!)
And now . . . back to work on new writing project and preparations for my slide show at Calvary Episcopal Church tomorrow morning!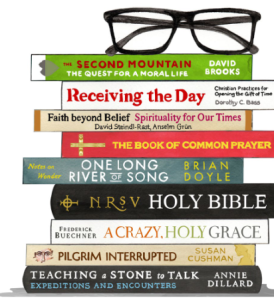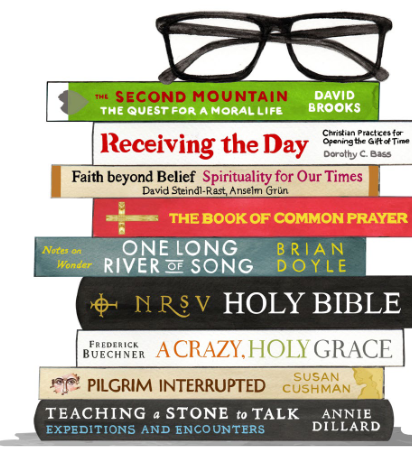 Thanks for reading!