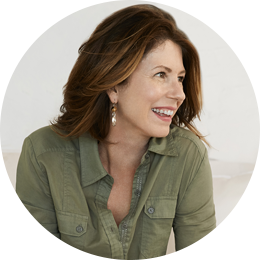 Three years ago I was reading Circling the Sun, and did a blog post about the use of facts vs. fiction in historical fiction:
Since then I've continued to be a huge fan of Paula McLain, having read three of her novels (and with plans to read Ticket to Ride) most recently Love and Ruin, the story of Martha Gelhorn and her tumultuous relationship with Ernest Hemingway. Since my husband and I will be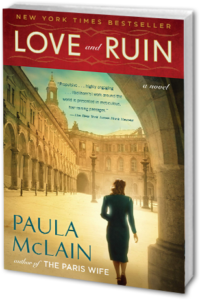 visiting Key West for the first time in April, I've been especially interested in all things Hemingway. I loved Paula's book, The Paris Wife, and also books by other authors about Hemingway's relationships, like Hemingway's Girl by Erika Robuck. But today's post is all about Paula McLain. The author. The woman.
I met Paula in January at the annual Pulpwood Queens Girlfriend Weekend in Jefferson, Texas. I was moderating a panel and she was a keynote speaker. I was a bit star-struck when we first met, but as the weekend progressed, she disarmed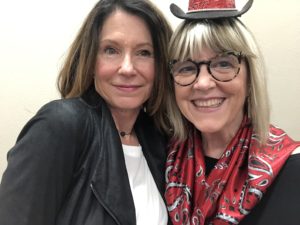 me with her approachability. There was something about her—something magnetic—that I couldn't put my finger on.
In one conversation I had with Paula and with my dear friend and author Nicole Seitz, we were talking about what's next in our writing projects. Or maybe I was babbling on about how I couldn't settle on a subject for my next novel. When I mentioned the months I spent alone writing at the beach a few years ago—my first time to be away from my husband of now almost 50 years—Nicole and Paula looked at each other and then at me and said, "That's your book!" I came home from the weekend and started the novel. So thank you, Paula and Nicole, for your encouragement.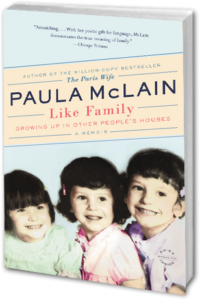 As I was starting the novel, I kept thinking about Paula, and what it was about her personality that drew me so strongly. I Googled her and found that in addition to her historic fiction novels I love so much, she had also written a memoir, Like Family: Growing Up in Other People's Houses. I bought the book and read it immediately. My love and admiration for Paula grew as her story unfolded on the pages in front of me. Her hard-scrabble childhood reminded me of Mary Karr's life and writing (especially her early works, like The Liar's Club and Cherry) with a dose of Haven Kimmel (A Girl Named Zippy and She Got Up Off the Couch) and more recently some Tara Westover (Educated).
So I asked Paula if she would do a Q & A with me for my blog, and I was thrilled when she agreed. He we go:
Susan: First of all, Paula, I am blown away by your literary talent. Your elevated prose, your strong sense of place and your multi-layered characters—both in your historical novels and in this memoir—are outstanding. How much of your style and voice as a writer to you contribute to your personal history, which you share in your memoir, and to your education—especially your MFA in poetry from the University of Michigan? I can hear your poet's voice in your prose.
Paula: That's so kind of you, Susan. And thank you for invitation to have this conversation. Language has always been important to me. I love the power of a sentence or a passage to touch us, move us, make us think and feel and imagine. My childhood in foster care was incredibly chaotic, and concentrating at school was difficult. But I read my way through a lot of that turmoil and displacement, finding whole worlds at my fingertips. I didn't know then that I was training to be a writer as well as "escaping" into books, but I'm quite sure of it now.
My creative writing degree is in poetry, yes, and that was my start as a writer. Recently a reader asked me if I still wrote poetry. I smiled and said yes, but that I was currently doing it as a novelist!
Susan: I have three adopted (now grown) children, two of whom were in orphanages until they were almost three years old. So I understand some of the wounds of a childhood apart from one's birth parents, as my own children experience those wounds. Did writing and publishing Like Family help heal those wounds for you? And if so, how?
Paula: I admire you for having the courage, wherewithal and compassion to adopt children from an institutional setting, knowing they'd have significant baggage. Though I also believe that anyone who's lived through foster care or adoption has wounds, large or small, fluid or permanent, but there. Writing Like Family was cathartic in a way, though instead of helping me "move past" those years and traumatic experiences, it brought them closer. Integrated them more fully into my story. That was a powerful outcome, and I didn't expect or predict that. I began to own it. My life.
Susan: I was abused by my grandfather in my early childhood, and others in my young adulthood. But when I wrote a memoir about it, I couldn't get up and above the trauma and make it art, which is what writing, what a book, should ultimately be. So I let the abuse fuel my novel Cherry Bomb, which was extremely cathartic. Did you ever consider writing your story as fiction, or did you determine to write it as memoir from the beginning? What was that process like?
Paula: I'm very sorry to know about your childhood trauma, Susan. How difficult that must have been for you. It's funny, but no. I never did think of giving myself some remove and writing it as fiction. Perhaps it's because memoir was very much in style when I began my book in the late 1990's. Tobias Wolff and Mary Karr helped elevate the genre, and they inspired me to try to make beautiful sentences and scenes as I told my story. I plunged into the craft of it, and gave the book everything I had. Interestingly, I was so focused on the scenes, pages and images—the art—that it took me aback when I went on book tour and every question was about the abuse I'd suffered, not what it took to write the memoir.
Susan: You published Like Family in 2003, six years before your first novel, A Ticket to Ride, and a decade before your three historic novels came out. What fueled your move from memoir to fiction, and how, if at all, did writing the memoir embolden you to write your novels?
Paula: I'd always secretly wanted to write a novel though I was terrified to begin. The memoir helped me cut my teeth on structure and dialogue, scene work and character development. But it didn't at all prepare me for plot! That was a rude awakening, but ultimately a very rewarding one.
Susan: Have you read Kim Michelle Richardson's memoir The Unbreakable Child? She and her sister lived in a Catholic orphanage in Kentucky where they were abused. It was interesting to me how differently Kim and her sister dealt with the trauma. How did your sisters feel about the book?
Paula: I haven't read The Unbreakable Child, but it sounds fascinating. My sisters were extremely supportive of my writing the book, though they never would have chosen to have their lives revealed in such a way. They're both private people, and not all that interested in unpacking the past. And yet they understood my need. I'm so grateful to have them in my corner. They mean the world to me.
I'm so grateful to Paula for taking the time to share these thoughts—both personal and professional—and to give us more insight into the life of such a gifted writer and courageous person. Now you've all got more books to add to your "to read" list!