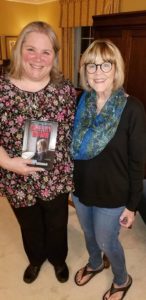 So this happened. In August of 2017 I met Karen Hatch at the Mississippi Book Festival in Jackson, Mississippi. It was Karen's first time at the Festival, and she found my novel CHERRY BOMB and asked me to sign it for her. I was in the authors' signing tent at the same time that Angie Thomas was signing her book THE HATE YOU GIVE. The line to Angie's table wrapped around the tent and through the grass. There was no line at my table. I was thrilled to meet Karen and sign my book for her.
Fast-forward to March of 2019. Turns out Karen is the librarian at Southaven High School, and she's in a book club with a bunch of women who teach school, work in libraries, or serve as principals in the Desoto County Schools of North Mississippi. She recommended CHERRY BOMB to her book club and they invited me to come and speak to them at their March meeting, this past Tuesday night.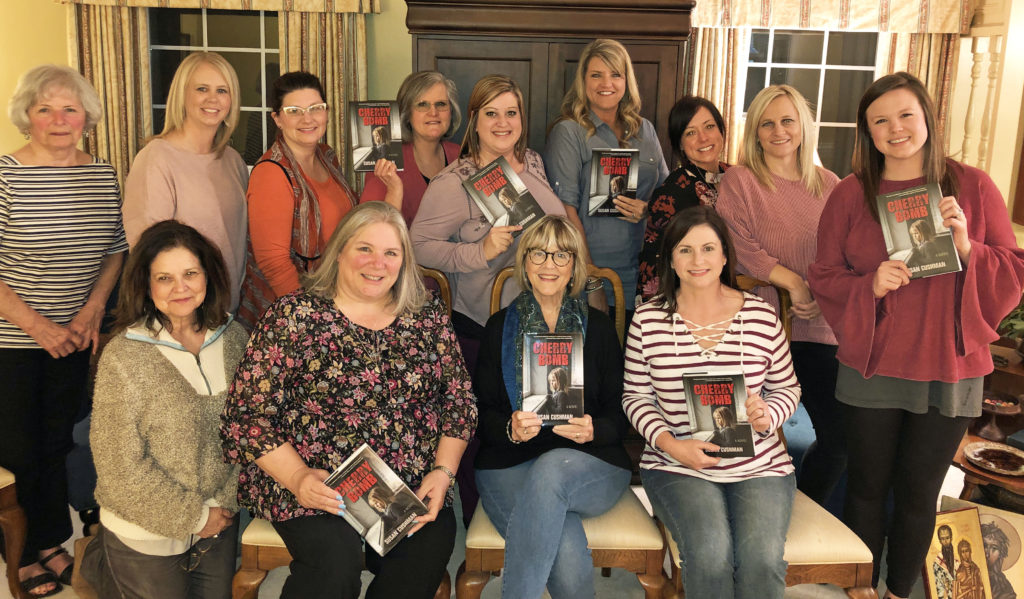 I was actually a little nervous driving thirty miles down to Hernando, Mississippi on Tuesday night. Not because I was driving alone into a rural area, but because Karen had told me so many of her book club members were in education. I was feeling a little intimidated before I even arrived. When I pulled up to this lovely home on what looked like several acres of land, I took a deep breath and walked towards the front door. Before I could even ring the bell, the hostess, Emily Ballard, opened the door and welcomed me. Karen was right beside her.
As I stepped inside Emily's home—ten or fifteen minutes earlier than the meeting was to begin—and looked to my left into her living room, there was a circle of over a dozen women, already seated (most with a glass of wine in their hands) waiting for me! "Oh, dear, am I late?" I asked, feeling a bit flustered.
"Oh, no," Karen answered. "I just asked everyone to come early so we'd be ready for you when you arrived."
I felt like a rock star, which is how these women treated me during the next couple of hours. They went on and on about how honored they were to have the author in their midst. You'd think that would have reassured me, but I was even more nervous, feeling that they had me on a pedestal I didn't deserve. I asked if everyone would introduce themselves and tell me what they did, and indeed, almost everyone of them worked at a school in one capacity or another.
After everyone had a plate of (delicious southern) finger food and were once again seated in a circle, the discussion began. I asked what books they had read and loved, and I recommended a few for their upcoming meetings. And then we started talking about CHERRY BOMB. It was humbling to hear how much they liked the book, and I relaxed into their questions about my own life and how my experiences fueled the story line of the novel. Their questions about the structure, characters, and plot were, of course, educated, and I began to relax a bit. That's when this happened.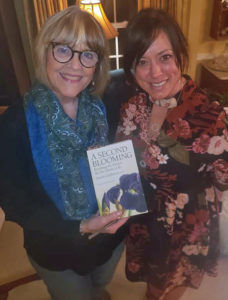 Someone said, "Mary Heather, tell Susan what happened to you when you first started reading Cherry Bomb." There were giggles all around the room and all eyes were on Mary Heather, a pretty and energetic brunette.
"Are y'all sure it's okay to tell her?" Mary Heather asked.
"Sure!" a chorus of voices replied. And so she began.
"Well, when Karen sent out a link to the book, I immediately ordered it on Audible so I could listen to it while working out at the gym. Once I got on the treadmill, put my earplugs in and started listening, I was a bit shocked at what I heard. I looked around the gym to see if anyone could hear the words I was hearing through my ear buds."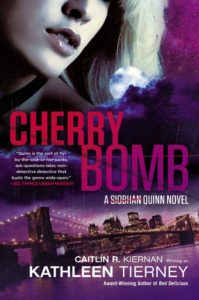 Mary Heather paused for a minute, looked around at several women in the room with an expression that begged for support. Then she continued.
"I heard what sounded like a women with a husky voice that said something like—is it okay for me to say this?"
Women around the room nodded and said yes. Mary Heather took a deep breath and said,
"The voice said, 'Chapter One: Pussy Trouble'."
The whole room of (conservative southern schoolmarms) about fell out of their chairs laughing, as did I. Karen had accidentally sent a link to the wrong Cherry Bomb out to the book club members. The one that Mary Heather had begun listening to, by author Kathleen Tierney, is book 3 in a series of lesbian vampire erotica. Yep. The first two paragraphs alone feature a cult of Cthulhu-workshipping alligator women in post-Katrina New Orleans, demon whoremongers from an alternate reality, and a magical dildo carved out of a unicorn's horn. Yes. I was over being nervous at this point in the evening, and I told those lovely bookclub ladies that I was going to write a blog post about this!
After the discussion was over, my rock-star status was confirmed as most of the women asked me to sign their book and pose for pictures with them. The hostess asked her daughter to take a group photo. By the next morning I was Facebook friends with several of these delightful women and we were sharing pictures and comments. I have to say the whole event made me proud to be from Mississippi. And don't ever believe someone when they say, "What happens in book club stays in book club." It might end up on someone's blog . . . .