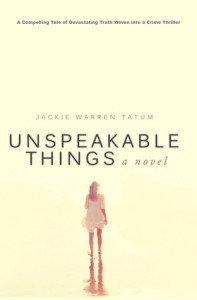 I never read crime thrillers, although I do watch Law & Order SVU regularly. But when I met Jackie Warren Tatum at one of my book signings in Jackson, Mississippi, recently, I told her I had bought her debut novel Unspeakable Things, and it was next up in my reading queue. Although this isn't a regular genre for me, I found it compelling. Dark. Graphic. Page-turning. Good character development. All the elements of a really good read. There are several good reviews (just Google it) online, so I decided to do a short Q&A with Jackie instead of posting another review. My questions—and Jackie's answers—are aimed at information that both readers and writers will appreciate. I just turned 66, in the year my first novel (and two nonfiction books) are being published, so I am greatly impressed with Jackie's first novel at age 74. Kudos to a fellow Mississippian, Jackie! And thanks for the interview.
P&P: I read that you did some writing for Jackson Free Press prior to writing Unspeakable Things, your debut novel. Have you always wanted to write a novel?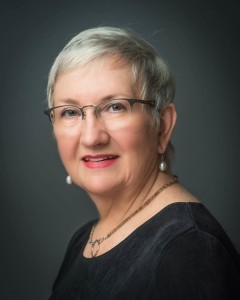 Jackie: I have always had an interest in expressing myself on paper. I remember writing poems in high school. Years ago, as a high school English and radio and television journalism teacher, words were a part of my life. Then, as a lawyer, I continued my relationship with words, both written and spoken. After I retired as a Special Assistant Attorney General, I took a writing course with the editor of the Jackson Free Press. That led to my freelancing and consciously considering myself a writer.

I don't know that I have ALWAYS wanted to write a novel, but over the years, prior to Unspeakable Things, I had begun several that never grew legs.

P&P: Did you draw from your experiences as an attorney in writing the story for the novel, and in developing the characters? If not, where did your ideas come from?
Jackie: Unspeakable Things is pure fiction. I am 74 years old and I have had a variety of life experiences, including widowhood and divorce and being the first female member of the Tippah County MS Bar in1980 and conducting a rural law practice there. Once I began Unspeakable Things, the characters found me. They often decided in which direction we would go and they dragged me along behind them, at times, kicking and screaming.
P&P: Why did you choose to self publish? Did you try traditional publishing first–i.e. querying agents and/or independent presses? Were you pleased with the process? What was good or bad about it?
Jackie: I researched for a year before selecting how to publish. There are really three ways to publish, as I understand it: 1. self publish by literally doing all the work yourself or contracting out the respective tasks, e.g., the art work/graphics/cover design/layout/etc. or 2. traditional publishing or 3. using some form of a self publishing service company. I was too inexperienced for 1., too old for 2. I chose 3. and shopped, in part, based on my research, and, in part, based on my scrutinizing the contract terms and conditions with the publishers.
P&P: I know that you lost your husband when you were only 25 years old. How much did that loss inform the relationship between Renee and Samone in the book? Was writing the book cathartic in any way?
Jackie: Unspeakable Things is pure fiction, but I could write with complete integrity about loss, having experienced the death of my high school sweetheart husband, suddenly, at such a young age. I dipped into the deep reservoir of experience and emotions inside me. Writing Unspeakable Things was a healing experience. 
P&P: Any plans for writing another novel?

Jackie: I have begun another novel. I am also getting encouragement to write a sequel to Unspeakable Things. The Lord willing, I will keep writing.