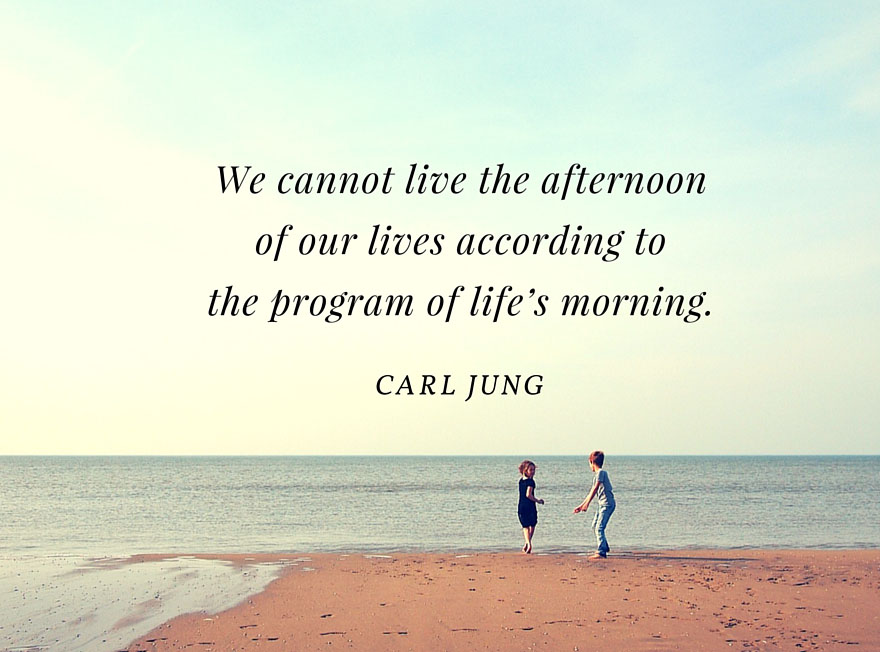 In Monday's post I wrote about three seasons of life as I saw them in Petula Clark's song, "Fill the World With Love,"—the morning, noon, and evening. Yesterday I was talking about this with a friend (who is in her eighties) over coffee at her kitchen table and I said, "You know, I think I may be in the afternoon of my life. Surely I am past the noontime and not yet to the evening." She agreed and encouraged me that the afternoon of our life holds much that is wonderful.
At home later in the day I found an email from her with a quote from Jung, so I Googled the topic and found this article which reflects on Jung's wisdom about this season, "Enjoying the Afternoon of Life: Jung on Aging." There is much wisdom in this article, but I especially like this part:
Jung called the elder years—those from c. age 56 to c. 83—the "afternoon of life," using the analogy of the passage of the Sun through the sky from morning to night. Youth was "morning," noon corresponded to mid-life, and night was old age, while the sixth and seventh decades see life energy wane, much as the Sun's warmth declines as it sinks lower in the sky. Just as we need the full cycle of the Sun to support life, so we are meant to live out the full cycle of human existence, and Jung recognized this. More than just living, Jung urged us to enjoy the "afternoon" of life….
So how are we to enjoy these years, where so many of us "Baby Boomers" find ourselves? I see many people trying to stay young—those with money chasing the elusive fountain of youth with personal trainers, expansive wardrobes, makeup routines (and plastic surgery), and behavior which denies aging. While I want to remain active, I don't want to compete with younger generations. My body won't let me, and I want to be content, to actually enjoy the afternoon of my life. But the article at the Jungian site describes a lifestyle I'm not ready to completely embrace:
The interval between age 60 and age 80 is the time most people retire from full-time participation in the work world. Generally in this interval children have grown up, gone off to college and set up their own families. This means there is more leisure, fewer family demands, and minimal restrictions in daily life due to the demands of work. Ambitions and desires tend to decrease, and oldsters often feel relief as they "downsize" into smaller homes, condos or collective living arrangements. There may be relief also in the realization of no longer having to keep up with new technologies.
Since I never had a "career" (I was a stay-at-home mom most of my life, other than running an aerobic dance business and doing some freelance writing) I'm not "retiring" at age 65…. I just had two books published and have two more in the works. I'm just getting started! And yet, I'm doing these things without the restraints of a mother with children still at home, and yes, with more leisure. I can choose what to do with my time, which is a great gift for which I try to remember to thank God daily.
I guess my main "complaint" in the afternoon of my life is the limitations placed on me by my body—although those limitations are mostly my own fault for not taking better care of it. The weight gain, the daily aches and pains (many from the car wreck three years ago), the sagging chin and drooping eyelids, all scream at me and make me yearn for my youth. But do I really want it back, with all its anxieties? No!

Today I will move forward, learning to enjoy the afternoon of my life. I will even allow myself to take a nap when I need one, or read a book or watch a movie in the middle of the day. But I also realize that my privileged leisure comes with a responsibility to others. No longer my mother's caregiver, and with my grandchildren 2000 miles away, it's easy to become lazy about reaching out to others. And to feel guilty that I'm not doing more volunteer work. I talked with my octogenerarian friend about these things yesterday, and she encouraged me that I have a gift to offer—my writing—and that in order to do my art, I will need to go inward and not spread myself too thin doing multiple "good deeds." I'm still thinking about that, and trying to consider my writing as a full time job. That and taking care of my body. I'm so lazy when it comes to exercise, which will greatly help the aches and pains and weight management.  So how do I move forward?
Jung felt the older person had the opportunity to re-imagine him or herself. Approaching life with a new sense of freedom and individuality, the oldster can improvise more, with less need for perfection and more boldness in affirming his/her uniqueness. No longer feeling the need to honor the past, no longer needing to honor dysfunctional family patterns, the oldster can even dare to be outrageous, to adopt the persona that feels right, rather than conform to what society expects.

I love what this says about no longer needing to "honor dysfunctional family patterns." I've struggled with issues from the past for 65 years. Many of those issues have fueled my writing, but as I begin a new novel (yes!) I want to move on, to leave those issues in the past, and to "dare to be outrageous," whatever that might mean for this season of my life. Hopefully I can tell a new story (one that has been percolating for only a few weeks) without those shackles. Here's to the afternoon of life!