A Lighter Taste of Ekphrastic Writing
If you missed my post from January 12, please click here to read Jean Saunders' wonderful ekphrastic piece, "As Always My Love." A few days ago I posted my short piece, "He Waited For Her," which had been published in The Ekphrastic Review. It might have been a little too dark for most of my readers, so today I'm posting something much lighter.
One of the images I shared with the Kirby Pines Creative Writing group I facilitate was this photograph from 1960. What I didn't tell them was that the little girl in the picture is me! It was fun to read their reflections on the image, since they didn't know it was me. But I also wanted to write about the picture myself. Of course it was a different experience for me, since I wrote an actual memory, rather than a fictional piece. I wrote it in third person rather than first, trying to give the impression of an objective observer.
Micro-Memoirs
One of my favorite nonfiction books is a little volume by the multi-talented Beth Ann Fennelly. It's titled Heating & Cooling: 52 Micro-Memoirs. I remember back a few years ago when she was writing it and I asked her what she was working on. She said, "I call them micro-memoirs. I'm not sure what I will do with them yet."
Beth Ann's micro-memoirs were not reflections on images, but on people and events from her family. What I offer here is an "ekphrastic micro-memoir." I hope you enjoy it! (And I'm so grateful to my mother for faithfully documenting so much of my childhood with photographs.)
The Littlest Sweetheart
1960. That was the year she got to wear her Easter dress more than once. Like every year she could remember before that, Susan's grandmother had made her dress. This year she had included a baby blue silk half slip that was designed to peek out just under the hem of the white eyelet dress. Her grandmother had even made a matching dress for one of her dolls with leftover fabric. The silk ribbon-tie belt was the perfect finishing touch, along with her white anklet socks with eyelet trim.
Her mother had put her hair up in pink foam-rubber curlers the night before. She had slept in them overnight, hoping her straight blonde hair would hold some of the curl just long enough for her appearance at the Choctaw Little League baseball game that night. They would be crowning the queen of the league, and she was one of the contestants, along with the other team sweethearts.
Her older brother's team—Jackson Ready-Mix—was coached by her father, and she had been chosen as team sweetheart earlier in the summer. It was her proudest moment. She loved wearing her sweetheart "uniform" to all the games: a white blouse with a red heart on the pocket, red short shorts, and a matching red baseball cap with a white heart and letter "C" for Choctaw League on front. Girls weren't allowed to play little league baseball in 1960, and Susan was actually a good pitcher. This was the closest she would get to wearing a baseball uniform.
She told herself that it didn't matter that the sweethearts of all the other teams were eleven or twelve, whereas she was only nine. And it didn't matter than most of them had boyfriends on the team they represented. She tried to dismiss the thought that she had only been chosen because of her eleven-year-old brother and her father. But what she had the most difficult time dismissing was that some of the other sweethearts already had breasts.
Susan had asked her mother for a training bra to wear with her new dress. She had secret plans to stuff it with two of her ankle socks. But her mother had declined, saying that she was too young for a bra.
Finally it was time for the ceremony, which would take place just before that night's game. She was escorted onto the field by her brother, followed by her father and mother. She eyed the other sweethearts, some of whom had fancy "up dos" for their hair. Susan's hair was short and swept to one side on top and held with a white bow. She was relieved to see that the older girls were also wearing short dresses, probably because it was July in Jackson, Mississippi, and it was too hot for a long dress outside. But then she saw their legs and feet. They were all wearing stockings with little white pumps. Heels! She looked down at her white patent leather Mary Janes and cringed. But then the ceremony began and she forgot all about those little white pumps.
The president of the league stood on the pitcher's mound, with all the sweethearts and their escorts spread out on either side of him. It was still light outside, so the electric lights hadn't been turned on yet. The president thanked everyone for their support of the league that summer, and especially for the teams who raised money to pay for the lights, mostly by selling candy. Finally he announced which team had raised the most money—Jackson Ready-Mix!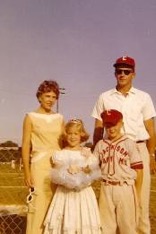 Susan's mother urged her to walk up to the pitcher's mound, just as the bat boy for Jackson Ready-Mix approached carrying a silk pillow with a crown on top. The only thing missing was music like they play at the Miss America pageant. But when the crown was placed on her head and she was declared to be Queen of the Choctaw Little League, all her doubts and concerns faded away. Her father and mother both kissed her and she thought she would cry. She briefly glanced at the older sweethearts who—to their credit—were clapping and wore pageant smiles—and thought she would burst. But the best part of all was when her brother hugged her and said, "I'm so proud of you, Sis."
She sat in the stands with her mother during the game that followed, barely noticing that her brother's team won, giving her family a second victory that night. All she could think about was how she couldn't wait to get home and write a letter to her grandmother, telling her all about the evening and how perfect the dress was.
Back home later that night, as she put away her dress, she said to her mother, "Just wait 'til next year."
"Next year?" her mother looked confused. "What could be better than being crowned Queen of the Choctaw Little League?"
Susan pulled her nightgown over her head and gave her mother a sly smile. "Well, being Queen was pretty nice, but next year maybe I can wear stockings and pumps . . . and a bra!"