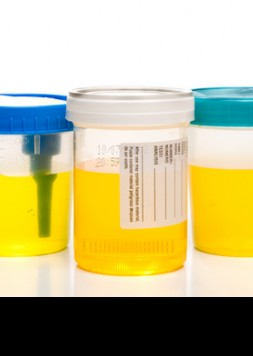 That's what the nurse told me in the emergency room on Tuesday night. I had been there for 4 hours, after 4 days of nausea and vomiting and finally dry heaving. Worst I can ever remember feeling. Even took some of my "magic nausea pills" (the kind they prescribe for people going through chemo) and they didn't help. I was on a bed waiting for my IV fluids and nausea meds when she asked me to pee in a cup. It was close to midnight and I had arrived at the emergency room before 8 p.m.
"I did that. About 4 hours ago."

"I know, Mrs. Cushman, and I'm so sorry, but they got your urine sample mixed up with someone else's and we need you to give us another one."

Probably some drug addict trying to steal my clean pee. *Sigh* So I got off the bed, held my hospital gown together to cover my ass and walked across the hall to the bathroom.

(4 hours in the emergency room with dozens of folks who probably have the flu made me regret that I haven't gotten my flu shot yet. It's on my list for when I get back to Memphis. At least they gave out surgical masks for some of those folks to wear while they waited.)
This is the third time I've gotten altitude sickness while visiting my kids and grandkids in Denver. Always in the winter, when it's even dryer than ever, I guess. And yes I had a couple of drinks with my first class upgrade flying here last Saturday, but I'm pretty sure there's more to this. I got sick here in Denver on Christmas day with a terrible cold and stomach bug, then I spent 8 days in the hospital with my mother down in Jackson, then flew back to Denver. I'm sure exhaustion and stress have played into this. I've had GI problems for over a month, so I'll be seeing my GI doc next week and scheduling some plumbing tests. *Yech*
Fortunately the fluids, meds, and a day of resting at my son's house on Wednesday got me back in the saddle in time to stay with Gabby Thursday and Friday while her mom was at work. She starts at a new daycare on Monday, so I took her for a Granny/Grandkid "visit" on Thursday and then dropped her off on her own for 2 hours today. Just enough time to have a light lunch (still can't eat much) and do some quick shopping at Nordstrom's. Of course she snowed her new teachers with her happy spirit and mad gymnastics skills.

On the news last night I saw something about being careful not to post too many "happy things" on Facebook… that it causes envy, and some people will even unfriend you because of it. (Really?) So… when I start posting about spending the month of February at Seagrove Beach for another personal writing retreat, I hope everyone will remember what a tough time I had in January and forgive me.