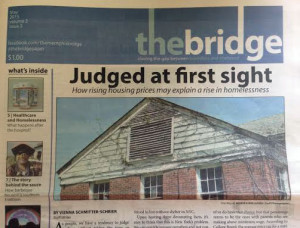 I've got lots of news to share on this Wednesday of writing, so I'll try to be succinct.
First of all, last night's salon with Ellen Prewitt, Cynthia Crawford and WSJ—contributors to the wonderful anthology edited by Ellen, Writing Our Way Home: A Group Journey Out of Homelessness—was nothing short of inspirational. There were tears. But there was also laughter. And hugs. And understanding passing between women from many walks of life who came together to support and celebrate the brave and difficult journeys of these formerly homeless individuals. I was honored to have them in my home, and meeting them in person changed forever the way I view homelessness.
One of the contributors, Cynthia Crawford, handed me a copy of the bridge—the newspaper written and published by Rhodes College students and distributed by homeless and formerly homeless vendors around Memphis. The story on the front page, by staff writer, Vienna Schmitter-Schrier, "Judged at first sight," spoke to the issue of rising housing prices in Memphis. But it was her opening paragraph that said what was in my heart last night. Here's an excerpt:
As people, we have a tendency to judge others without taking the time or effort to learn their life circumstances. This can be dangerous. For example, as a child, upon seeing a homeless individual, my instinct was to label them as "lazy" or "incompetent," both extremely offensive words. My young mind jumped to these conclusions because I did not comprehend the wide variety of stories behind homelessness, many of which I now understand are beyond a person's control.
And that was written by a nineteen-year-old college student. Oh that I had her understanding at that age!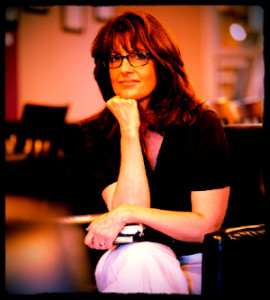 Second in today's news is from my friend, the gifted writer and storyteller, River Jordan. River is offering up 40 days of "Real and Raw" stories on her blog, starting TODAY. These are unedited, first drafts of true stories which will entertain readers and inspire writers. (She's editing them and sending them to her agent, so hopefully we'll see them as a collection in print one day.)
Speaking of agents, I'm off to New York City this weekend where I'll be having coffee on Monday morning with the agent who has shown interest in my novel. Having just sent her the second round of revisions (working with the editor she recommended), I'm hoping that she'll be ready to sign me as a client. Stay tuned!
P. S. Just read this short and excellent post by the writer Lee Martin, which is also about storytelling—"Telling Our Family Stories." Definitely worth a read!