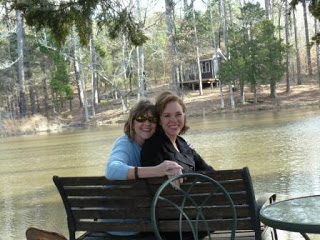 Four years ago I made one of many trips down to Oxford, Mississippi, where I went to school (the first time) over forty years ago. Since 2007 I've been back for nine writing workshops and conferences in Oxford, and many other weekends with my writing group or other friends. But only once did I write an essay about a visit—back in February of 2009. Wait, I wrote one other essay, come to think of it, about my best friend, Daphne's first visit to Oxford, when she thought she kept hearing my voice in Square Books, because she said I sounded like so many other women who were browsing the shelves in there. It's a Mississippi thing, I guess.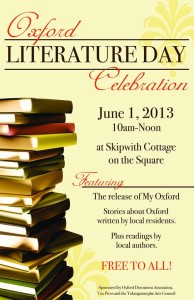 The visit I wrote about was also with my friend Daphne Davenport, and another friend, Doug McLain. I'm honored to have this essay included in a new anthology published by the Yoknapatawpha Arts Council, My Oxford.
Last Saturday I drove down for a launch party for the book, at the Oxford Literature Day, a celebration of Oxford's 175th anniversary. You can buy the book at Square Books in Oxford, but it isn't available online.
So, I decided to share my essay here. Enjoy!

The Wind in the Trees
            Like so many visits to Oxford, Mississippi, our day began with coffee at High Pointe, shopping at the cute little boutiques on the square, and browsing the shelves at Square Books. My best friend from Little Rock was with me, and we had plans to meet up with some of our writing buddies and possibly take in a few flicks at the Oxford Film Festival. It was February 7, 2009.

            Over lunch with author Jere Hoar (Body Parts, The Hit) at the Downtown Grill, the conversation returned to the topic Daphne had been pursuing during our drive down from Memphis—the land.
            It might help you to know that Daphne was born on a ranch in Mexico, and her people inhabit various geographical areas across South Texas and Arkansas. But like me—and a growing number of other lovers of Southern literature and the sense of place that nurtures it—she's nursing a post school-girl crush on the city of Oxford. And she didn't even attend the hallowed halls of the University of Mississippi as I did. As a coed during the turbulent sixties and perplexing seventies, I remember sitting in the Faulkner Library, writing a ridiculously fluffy paper on The Sound and the Fury, hoping to disguise my complete lack of understanding of Faulkner's brilliance with bullshit masquerading as higher criticism.
            But on this particular Saturday, our excursion took us down a road never traveled by this Mississippi native. We were looking to buy some land near Oxford. Well, my friends were looking, and at this point I was just along for the ride. We had picked up a copy of The Oxford Eagle at Off Square Books after lunch, so Daphne could check out the real estate section while I drove. But it turned out that our friend Doug had a detour in mind that would lead us deeper inside a mystical world that lies just south of Oxford in the peaceful Yocona community. We were headed to Larry Brown's beautiful hidden paradise—the place where one of Oxford's favorite native sons created his special literary magic. Brown, known for his gritty fiction (Big Bad Love, Joe) and candid portrayal of life in the rural South, died in November of 2004, at the young age of 53. Doug had attended the funeral. This was his first return trip to Brown's property, and his mood was pensive.
            "Turn right down that road," Doug said, as we continued south on a rural highway about ten minutes outside Oxford. The road twisted and turned, as fields and trees and an occasional barn or homestead appeared on either side.
            "I think it's just around this next curve, on the left… look—the gate is down, you can pull in."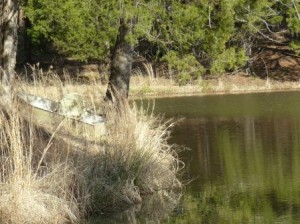 We pulled onto the property, got out of the car and stood silently, taking in the scene. To the left was an old barn, in just enough disrepair to tease an artist's brush or a photographer's lens. Straight ahead the dirt road, partly overgrown with grass, took us down a slight incline towards an idyllic setting—a sparkling pond, surrounded by massive trees. An old fishing boat was barely visible near the edge, camouflaged by tall grass. Tackle boxes and fishing rods leaned against a nearby tree.
            "Listen," Daphne stopped our movement. "You can hear the wind in the trees."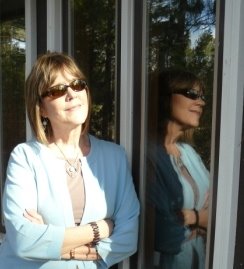 I think it was the first time I had heard that sound since my last visit to a Monastery in Michigan, nearly two years ago. You can't hear the wind in the city, with all the competing noises. And this was a completely different sound than the wind at the beach, where water and sand serve as woofers and tweeters for the otherwise silent strength of the ocean breeze. The wind in the trees by Larry Brown's pond had a powerful upward pull on my senses, as I looked skyward, and then involuntarily closed my eyes and took in a deep breath.
            We felt like we were walking on sacred ground as we continued our stroll deeper into the heart of the property.
            "I need a moment," Doug's voice was quiet. We watched him ascend a low hill towards the barn, the site of two graves. Larry Brown and his wife had lost an infant daughter at one point. Her tiny tombstone mirrored his larger one, like a doe in the shadow of its stately parent.
            Daphne and I found the dock on the pond, and Doug joined us later, sitting on the benches and taking in the reflection of the huge trees in the water.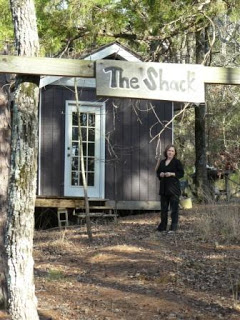 "What's that tiny house on the other side of the pond?" I asked.
            "Oh, that's The Shack," Doug's voice was gravelly. "That's where Larry did a lot of his writing."
            Daphne and I walked around the pond to get a closer look, and what we found was enchanting. A one-room edifice which still held relics of Brown's days and nights spent honing his craft within those four small walls. A simple couch. Partly burned candles. Photographs of his family. An old stereo. And an incredible view of the pond. There was a deck in front of the house—its footprint at least at large as the interior of the building—and from that deck the sound of the wind in the trees was amplified. The trees were massive, a reminder that the land had been here long before our generation arrived. That's when Daphne brought us back to thoughts of her quest.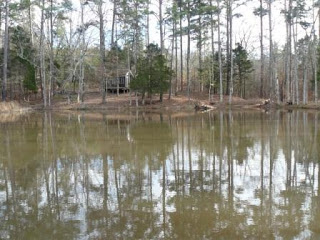 "This would work. Yes, this would be perfect. Seven acres with a slight hill, a barn and a pond."
            Of course Larry Brown's property wasn't for sale, but it set the bar for other candidates. On the drive back into Oxford, we continued to observe the expanses of open fields and meadows between the houses and trailers that dotted the landscape.
            "You wouldn't want that piece," Doug would say, as our eyes scanned the terrain. "It's bottom land, and it floods when it rains." We noticed water standing in patches in some areas as he spoke. "But that one up there would give you a great view." Our eyes would follow his like hunters in the path of trained bird dogs. And we would sigh and mumble fragments of words or phrases that were inadequate reflections of our hearts' longings.
            Back in town we met back up with our friends for drinks on the balcony at City Grocery, and later at the Lyric for the film festival awards show. Our friend and mentor, the poet, Beth Ann Fennelly, was one of the MCs, and she and her husband, Tom Franklin, also an author, were enjoying their daughter's acting debut. Both venues were noisy and fun, full of laughter and people celebrating life and art, usually just my cup of tea. But on this evening my party girl spirits were slightly subdued by memories of an afternoon this city girl wouldn't soon forget.
            Even up on that balcony overlooking the square in downtown Oxford—one of my favorite haunts—I realized that something was missing. Something I had discovered out at Larry Brown's farm—the sound of the wind in the trees.