For previous posts on the contributors, see these authors who were all featured in the first section of the book, "Mystics and Messengers."
And from the second section of the book, "Angels Watching Over Me."
Next up?
Jacqueline Allen Trimble
Jacqueline Allen Trimble is a National Endowment for the Arts Creative Writing Fellow (Poetry), a Cave Canem Fellow, and an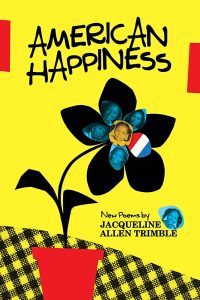 Alabama State Council on the Arts Literary Fellow. I was honored to have Jaqueline contribute a wonderful essay to another anthology I edited, Southern Writers on Writing (2018). Her debut collection, American Happiness, won the 2016 Balcones Poetry Prize. Her latest collection of poetry is How to Survive the Apocalypse (2022). She lives and writes in Montgomery, Alabama, where she is professor of English and chairs the Department of Languages and Literature at Alabama State University.
I enjoyed having Jacqueline participate on panels with other contributors to Southern Writers on Writing during a book tour in Alabama in 2018.  
"The Truth About Angels"
As I wrote recently about the problem with posting "excerpts" from poems . . . it's hard to give you a teaser of a poem. But here goes . . . the final stanza of Jaqueline's poem, "The Truth About Angels."
But God still sends them, these angels,

and they still go, doing what they can, even

as we pray one thing and do another. Over a over.

If they truly had halos, we would make them spin.