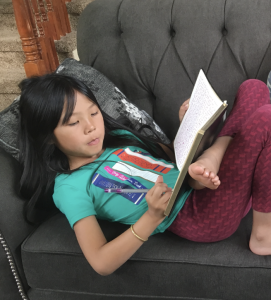 There's another writer in the Cushman family. Our son Jason, has always been a writer. Check out his blog, Harsh Reality. This morning he posted this short story by his nine-year-old daughter Grace on his blog. I asked his permission to share it here because I think it's so wonderful. I'm so proud of all four of our granddaughters, ages 3, 6, 8, and 9, but today I'm featuring Grace. The writer.
I interviewed Grace on Facetime briefly last night to ask about her inspiration for the story. Turns out she does know a girl named Capriana (cool name, huh?) but her story is nothing like this one. I asked if she knew someone who had recently lost a parent and might be dealing with the kinds of emotions that are so evident in this story, and she didn't. This just came from her imagination, and from a deep, caring, gifted soul. Please read and enjoy.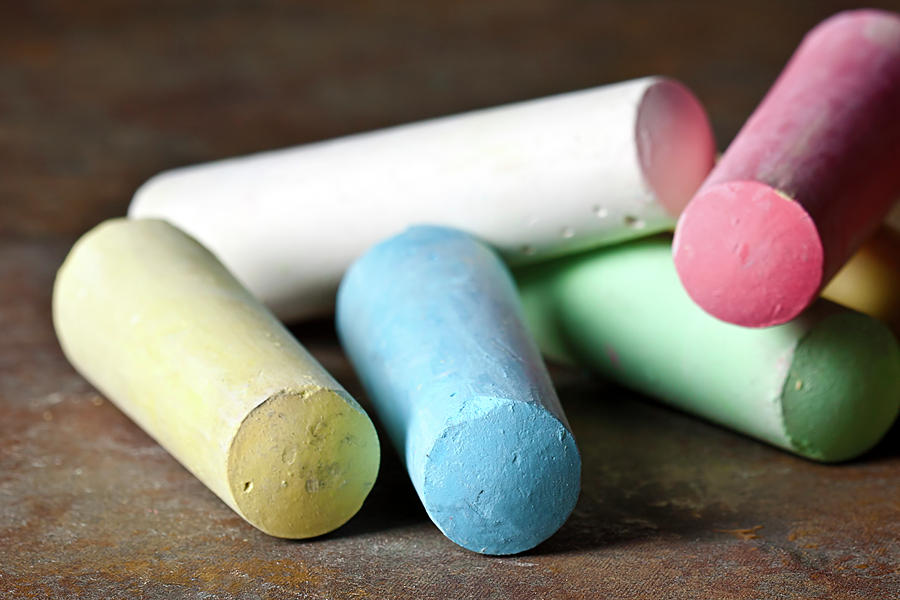 Chalk
by Grace Cushman
One breezy spring morning, a girl named Capriana woke up in her cotton bed. She could barely wake up for school. She hauled herself to her dresser and got dressed. Her mom forced her to wear her least favorite orange pants. Capriana HATED the color orange. She only liked the color red because red was the color emotion of anger. She stomped down the stairs with a handful of books that she's already read twice, a white shirt, and her least favorite orange pants.
"Hey orange is a good color for you! You don't always have to grumpy when you don't get your way you know." said Capriana's mom as Capriana stomped to the kitchen.
Capriana had frizzy brown hair and eyes that were the color of an emerald. Capriana ignored her mother and sat down to eat breakfast. "YUCK! Mommy you know how much I hate oatmeal!" complained Capriana.
"Oh just eat it!" said Capriana's mom as she pushed the lavender bowl.
Capriana did not like the color lavender either. To her it meant friendship. Capriana did not have any friends in her second grade classroom. Capriana picked up the silver spoon and took a big bite. "HOT!" yelled Capriana as she dropped her spoon that made a cling sound. Capriana's mom sighed and knelt down to grab the spoon. Capriana came back in the kitchen hauling a bag full of books. "Come on mommy I'm gonna be late for school!"
"Ok! Coming!"  
When Capriana's mom dropped off Capriana and said goodbye, Capriana stomped all the way to her classroom full of LITTLE SECOND GRADERS! When Capriana got to her classroom everyone stopped talking and looked at her. Then they all scooted one foot away from her desk. Capriana didn't care. You get used to something when it's happened to you for a year. But then Capriana saw a boy smiling at her. It was the new kid that had joined the classroom. Then a boy scooted to him and whispered something in his ear. Capriana waited for him to join the other. But suddenly he had a face that said, "So what?"
After math, which was the first subject of the day, Capriana got to know the boy more. She already knew he was really good at math. And she didn't care that he was perfect all the time. Even his name was perfect for him! George. All she cared about was having a friend. A real friend. But deep down inside her she still felt like something bad was about to happen. Something terrible. During writing George and Capriana were sitting in the corner together having their clipboards clutched to their chests. "Hahaha!"
"SHHHHHHHHHHHHH!" shushed their teacher, Ms. Banana.
"HAHAHAHAHAHA! That's so… HAHAHA! So funny! HAHAHAHAHA!" laughed George, tears in his eyes.
"SHUSH YOUR LITTLE MOUTHS!" hissed Ms. Banana as she closed shut a filling cabin.
Capriana and George started working quietly with their pencils. They both knew they had to start working faster for their writing celebration that was tomorrow. But suddenly, a boy dropped a book on George's head! " Owwww" said George while he rubbed his head. The book had dropped so quickly that it startled George and his hand struck out. And that had been a mistake. His perfectly sharpened pencil had ripped a hole in Capriana's published writing. Gasp flooded the room with all eyes on George and Capriana. Capriana's eyes felt hot. And so did her cheeks. George didn't know what was coming for him. "Capriana I'm so sor-"
"GEORGE, YOU MADE A HOLE IN MY PAPER!" cried Capriana, bursting into tears.
George's heart sank faster than the Titanic. "Capriana I said I'm sor-"
"I DON'T CARE IF YOU'RE SORRY, GEORGE! I WAS ABOUT TO FINISH MY WRITING!"
"Bu-bu-but"
"GEORGE I….I…HATE YOU!" yelled Capriana. George stood quiet with tears rolling down his cheeks. Capriana was so angry that she ripped all of his perfect handwriting to pieces.
When it was the next day Capriana and George missed out on their writing celebration. So instead of drinking strawberry lemonade and reading each other's writing they just read in the corner of their classroom. Which was not a problem to Capriana because she loved to read a lot. So at recess she read by herself under a tree. But at a distance she could hear a bunch of girls singing "George and Capriana sitting in a tree K-I-S-S-I-N-G!" Capriana wanted to wipe the smiles off their faces. But instead she kept reading. Reading was what kept her anger down. But at art class she saw the same girls talking about her and George in the corner. That's when she got so mad that when she heard them she actually punched one of the girls in the face.
"I'm so sorry about Capriana's behavior. I'll be sure to talk to her when we get home." said Capriana's mom. 
"Yes. Capriana just has to control her anger." said Capriana's principal.
"I don't know why she is so angry all the time!" said Capriana's mom.
"Can you tell me when she started acting like this?" asked the principal.
"Well she started ever since her father died."
"Hmmmm I see. Go on."
"She was so sad that she ran away from home and returned," said Capriana's mom.
"Well she's lucky it only caused a nose bleed and a few tears. And since this is her 1st warning, she will only get expelled for three days," said Capriana's principal. Capriana's mom nodded and walked out the door
When Capriana got home she ran up the stairs and slammed the door shut behind her. She grabbed a book from her shelf and started reading in her head on her bed. Tears rolled down her hot red cheeks. Suddenly the door opened. Capriana stopped reading at the word "chalk." She looked up. It was her mom. Her mom gingerly creaked open the door. "Hey sweetie can we talk?" asked Capriana's mom. Capriana ignored her and kept reading. Capriana's mom frowned. She took the book from Capriana and put it on the floor. "I've decided for your punishment you will have no tv, no computer, and no reading for a week."
"WHAT!?"
Capriana sat on her porch step with the sun burning her neck. Capriana had a small neighborhood. It was the shape of a circle. Suddenly Capriana saw something brown in the middle of their neighborhood under the slide in their park. She crossed the street and saw that it was a box. Capriana bent down and took the box out. She opened it and inside were different colored pieces of chalk. She took one piece out. Capriana didn't think about drawing to calm her anger down. She used them on her hand and drew a circle. Then a heart then a square then a flower. Soon she was drawing monkeys and squirrels like the ones she had seen in her trees. And she even drew herself. Soon she had a city of colors and shapes. But then suddenly, something fell on Capriana's head. She touched her head; it was wet. Then more raindrops fell from the sky! And soon her masterpiece was now just a flood of colors. Capriana's face felt hot again. She got so mad that she broke every single piece of chalk in the box. Then Capriana started crying. But not because she was upset but because she knows how it feels for something that you've worked hard on go to waste.
When it was tomorrow Capriana walked into her classroom. George and everyone else scooted a foot to the left. Capriana wanted to cry but she walked to George. "George I'm sorry for what happened. Will you forgive me?" asked Capriana. George didn't answer. Capriana sighed. Then she told him what had happened the other day. George then finally forgave her and they became friends again.