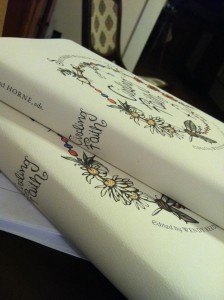 Today I'm headed to Little Rock for an exciting weekend. Not only because I'll be hanging out with my best friend, Daphne. But also because I'll be hanging out with (Little Rock native) Jennifer Horne and Wendy Reed, co-editors of Circling Faith: Southern Women on Spirituality. These women have become so much more than editors to me over the past few months. They have become my friends. And my fellow seekers on our shared path with other Southern women who are circling faith. We're headed to Little Rock for another reading and signing, this time at WordsWorth Books. It's in the Heights, my favorite neighborhood, filled with boutiques, art galleries, coffee shops, restaurants and bars.

This will be my 8th time to give a reading from Circling Faith since it was published this past spring. Each of these events is an opportunity to have a conversation with other Southern women (and men) who, like us, grew up in the "Christ-haunted South." It's a special landscape. Those conversations have been as much (or more) fun and enlightening for the contributors and editors of Circling Faith as they have (hopefully) been for our listeners and readers. Whether it's a small group of parishioners who showed up at St. John's Episcopal Church in Memphis for a reading during their Sunday School hour, or a crowd of fifty or more who weathered a pretty severe storm to join us on the last day of the Southern Festival of Books in Nashville last month, they've been terrific listeners and conversationalists. Book clubs have shown up in Jackson, Mississippi and Nashville, and we're also invited to meet with another book club in Little Rock this weekend. Writing workshop leaders in Boulder, Colorado and Clarksdale, Mississippi invited me to read my essay from Circling Faith at their events. So, it's not just about the faith part. It's also about the writing. The art.
As Jennifer and Wendy wrote in the book's introduction:
"Southerners do possess an uncanny ability to believe in the supernatural, to have faith in the face of defeat. Some say it's what happens when Celtic and Cherokee mix. That the Scots-Irish have never privileged logic. Others say that the Scots-Irish never knew privilege, period. Historian Wayne Flynt says that in a region of an almost inhumane, hardscrabble poverty, it was the only thing they had."
The women who contributed essays to Circling Faith come from a variety of Southern upbringings and religious experiences. Some of us have left the faith of our childhoods. Others are seeking a new church home. And there are some who are still "circling" their experience of God and spirituality outside the church.
As Flannery O'Connor said, "Most of us come to the church by a means the church does not allow."
I'd like to share a few quotes from the anthology. All eighteen essays have blessed me greatly, in one way or another. Some have made me laugh. Others have brought tears to my eyes. And others have made me say, "yes" with a fist pump to the brave artistry with which a story has been crafted. Here's a sampling of a few essays:
Mary Karr

"Poetry had worked the same way. I've written elsewhere of its Eucharistic qualities . . . . In memorizing the poems I loved, I 'ate' them in a way. I breathed as the poet breathed to recite the words: someone else's suffering and passion enters your body to transform you, partly by joining you to others in a saving circle."—Mary Karr's essay, "Facing Altars: Poetry and Prayer" (Author of Lit, The Liar's Club, Cherry, and Sinners Welcome, from which her essay in Circling Faith was excerpted.)
Beth Ann Fennelly

"Having rejected the land of my fathers and the religion of my fathers… am I essentially cut off at the root? Can I make an intellectual decision to grow faith, or to crave dirt?… It seems strange to go church-shopping, but how else can I define and satisfy my needs? It seems strange to go dirt-shopping, but how else can I taste it, and therefore know if I like it?"—Beth Ann Fennelly's essay, "Taking Terroir on Faith" (award-winning author of Open House, Tender Hooks, Unmentionables, and Great With Child. She and her husband, Tom Franklin, have just co-written a novel.)
Marshall Chapman

"And yes, I hardly ever go to church. But on the rare occasion I do, I don't feel any differently there than I do at home or in the grocery store. It's like the whole world has become my church. And every breath I take is a prayer."—from Marshall Chapman's essay, "Going to Church" (Nashville singer/songwriter and author of They Came to Nashville and Goodbye, Little Rock and Roller.)
Barbara Brown Taylor

"Sacraments schooled me in the wedding of spirit and flesh. I learned how to do the official ones in church—not just communion, but also baptism, reconciliation, the laying on of hands—and then, when I had the hang of seeing the holy in the most ordinary things, I moved on to celebrating the sacraments of picnic lunches, ordinary baths, forgiving embraces, and rubbing sick friends' feet."—from Barbara Brown Taylor's essay, "What the Body Knows" (Episcopal priest and author of An Altar in the World: A Geography of Faith, and Leaving Church: A Memoir of Faith, and eleven other books.)
"And so the whole point is basically to be in yourself, to not resist whatever needs to be worked on in yourself, to let that rise, to let it come and to look at it as closely as you can, and then let it go. And I sometimes say that meditation is like flossing your mind . . . you get rid of a lot of stuff that you actually don't need to continue carrying around with you."—from Alice Walker's interview, "Alice Walker Calls God Mama" (Alice has written numerous books, including the Pulitzer-Prize-winning The Color Purple.)
"I've searched all over for something that is right here at home but realizing it requires practice. It seemed easier to flee to India or sit alone in the serene Alps and fast. These were small tests. But in contact with people every day, my anger flares, my heart opens and closes. I am challenged to see God in my new husband, in his children, in the cashier at Borders, in the nurse who takes my blood and in myself. "—from Debra Moffit's essay, "Pilgrimage" (Award-winning author of Awake in the World: 108 Practices to Live a Divinely Inspired Life and Garden of Bliss: Cultivating the Inner Landscape for Self-Discovery.)
We are so thrilled that people are embracing this anthology, which went into a second printing shortly after it came out. If you don't have it yet, please buy it from your favorite independent bookstore. (Great Christmas gift!) We are thankful to the following shops who have welcomed us for readings or provided our books at events: Burke's Books (Memphis), Lemuria (Jackson, MS), Square Books (Oxford, MS), Parnassus Books (Nashville), WordsWorth (Little Rock, AR), Alabama Booksmith (Birmingham), Page & Palette (Fairhope, AL) and coming up on December 1, Avid Books (Athen, GA).