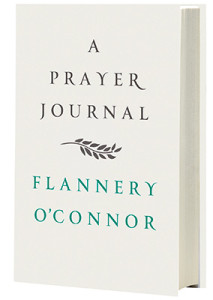 A couple of years ago I discovered Flannery O'Connor's wonderful book (published after she died) A Prayer Journal. It contains entries she wrote by hand (the hand-written versions are included in the book) from January of 1946 through September of 1947. She was only twenty-one when she began this short journal. For some reason I was drawn back to this journal this morning and began reading it again with my second cup of coffee.  I hear my own thoughts—my own voice—in so many of her words. It blesses me to see a (Southern) writer of O'Connor's talent express her struggle with faith. I'll share a few excerpts, beginning with the final entry in the journal, because I have experienced such similar feelings recently:
My thoughts are so far away from God. He might as well not have made me. And the feeling I end up writing here lasts approximately a half hour and seems a sham. I don't want any of this artificial superficial feeling stimulated by the choir. Today I have proved myself a glutton—for Scotch oatmeal cookies and erotic thought. There is nothing left to say of me.
When I first read this I thought someone had been listening in on my confessions! Just replace scotch oatmeal cookies with homemade fudge (the object of my gluttony last week) and the rest fits. A priest once asked me—after giving me absolution after my confession—"Do you love God?" I answered that I must not, or else I would behave differently. But I WANT TO love God, so that's a start. Again O'Connor's words bless me:
Dear God, I cannot love Thee the way I want to. You are the slim crescent of a moon that I see and myself is the earth's shadow that keeps me from seeing all the moon. The crescent is very beautiful and perhaps that is all one like I am should or could see; but what I am afraid of, dear God, is that my self shadow will grow so large that it blocks the whole moon, and that I will judge myself by the shadow that is nothing. I do not know you God because I am in the way. Please help me to push myself aside.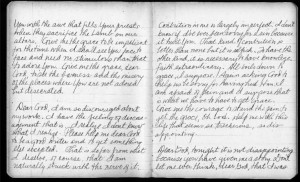 Reading her words here makes me wonder if I struggle with loving God because I love myself too much.  Or I am too much concerned with my work, with my success. I am heartened that O'Connor expresses this same concern several times in her journal:
I want very much to succeed in the world with what I want to do….

Please help me dear God to be a good writer and to get something else accepted….

Oh dear God I want to write a novel, a good novel. I want to do this for a good feeling & for a bad one. The bad one is uppermost. The psychologists say it is the natural one….
But later (is she making spiritual "progress"?) she says:
I want so to love God all the way. At the same time I want all the things that seem opposed to it—I want to be a fine writer. Any success will tend to swell my head—unconsciously even. If I ever do get to be a fine writer, it will not be because I am a fine writer but because God has given me credit for a few of the things He kindly wrote for me.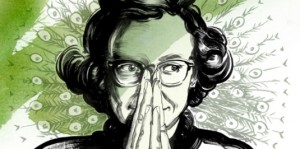 So there it is—the dichotomy I face every day. But perhaps also a way to face it, by acknowledging God's gifts to me. And by continuing to ask God to help me love Him, as O'Connor entreated Him:
Dear Lord please make me want You. It would be the greatest bliss…. Give me the grace, dear God, to adore You for even this I cannot do for myself.
[You can read more excerpts in this New Yorker article from September of 2013.]