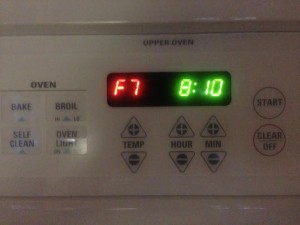 So, here's why I'm NOT writing on Wednesday. I woke up to the sound of something beeping in my kitchen. Our GE Profile Oven has a digital control pad and it's blinking "F7" and beeping loudly. I can push the "CANCEL/OFF" button and it will stop for a few seconds, then start back.
Of course I Googled the issue and learned that I probably need the panel replaced. Evidently it's a common problem with this model. Here's what one guy said in a thread at applianceblog.com:
Three of my neighbors and I have the same GE profile double oven (new home development) and we've all have the same problem as you described-F7. I discovered the old clean the flex cable connector trick and it worked great at the start. It seems the problem occurs more frequently over time, however.

One of my friends also bought a similar model GE double oven (without consulting me) and has just obtained the same error.

As far as I can tell, to replace the control pad and ERC, the cost is approx. $250-300, to replace them myself. I guess I weary of getting this fixed if it's a design problem. What if the error occurs a year later? Would like to approach GE with my neighbors and see if they'd be willing to cut us some slack. Not sure at this point…
I've got a friend who does electrical work and he's going to look into it today. My other option is to call our home warranty and they will schedule someone to come out but probably not for a day or two. It would be cheaper (on warranty) but the beeping is driving me crazy. I'm waiting to hear if my friend can fix it today.
Meanwhile, I'm back in my office with the door shut so I can't hear the beeping. Okay, maybe I can get some writing done after all…. The essays are starting to come in for the anthology I'm publishing, and they are so wonderful! Don't need much editing, just a little tweaking here and there. Such gifted authors. I'm like a kid in a candy store!
After immersing myself in a yummy essay, it's time for a second cup of coffee, so I head down the hall to the kitchen, having temporarily forgotten about the damn beeping. Oh, well….
Happy hump day, everyone!