Virtual Book Launch at Novel Memphis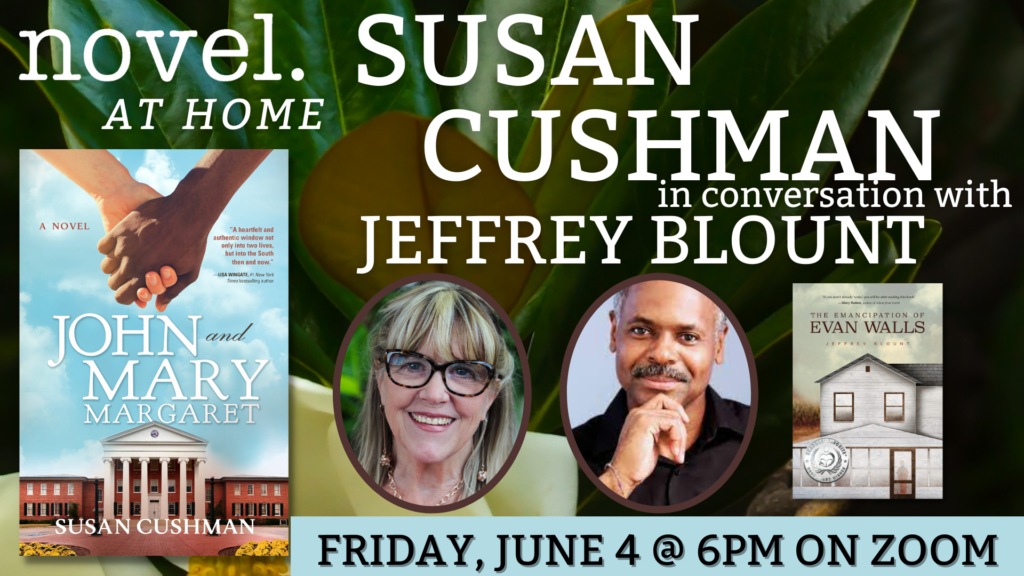 On June 4 I was so happy to be in conversation with Jeffrey Blount for the virtual launch of  John and Mary Margaret, which was hosted by the wonderful people at Novel Memphis. Jeffrey brought not only his literary acumen (read his latest novel The Emancipation of Evan Walls!) but also his media skills to the event, since he was a director at NBC News in New York City for over thirty years. If you missed it, you can watch the event here.
The In-Person Book Tour
John and Mary Margaret released on June 8, and on June 7 I headed out on an in-person book tour, driving from Memphis to Atlanta, several stops in South Carolina, Florida, Alabama, New Orleans, and back up through Mississippi, driving over 2,300 miles in 13 days. I stayed in five hotels and five private homes and did nine book events in four states. I walked on the beaches of the Atlantic Ocean in South Carolina and the Gulf of Mexico in Florida, and enjoyed delicious meals in my favorite food city, New Orleans. I visited eight wonderful bookstores in five states, signing copies of John and Mary Margaret and visiting with the booksellers who are the heroes of the literary world to authors and readers alike. More photos from my trip are at the end of this post.
Pat Conroy Literary Center
While all of the events on my tour were very special to me, it was an exceptional honor to be the first in-person speaker at the Pat Conroy Literary Center in Beaufort, South Carolina, since they moved into their beautiful new digs. I was also honored to be introduced by Cassandra King, and the Center's gracious host Jonathan Haupt is always wonderful to be with. I'm thrilled that the event was recorded, and I hope you will take a few minutes to watch it here.
Virtual Home Town Event at Lemuria Books
On July 1 my "hometown" launch was hosted by Lemuria Books in Jackson, Mississippi. This time I was blessed to be in conversation with Mississippi native Ralph Eubanks, author of A Place Like Mississippi and Ever Is a Long Time: A Journey Into Mississippi's Dark Past (among other books). Ralph lives in Washington, DC, and is a visiting professor at the University of Missisippi, where much of the book is set. In fact, he was a student there in the early 1970s, and was present for historical civil rights events that are recounted in the book. I was so happy to see that 99 people participated in the virtual event on Facebook, and I'd like to share one comment, from a lawyer in Jackson:
I'm a lawyer with a love of literature . . . . Looking forward to reading your book. I was at Ole Miss as a freshman and sophomore from fall 1970 to spring 1972 and currently live two blocks from Ms. Welty's house, so there's that. I've seen quite a few Lemuria author live streams and this is one of the best.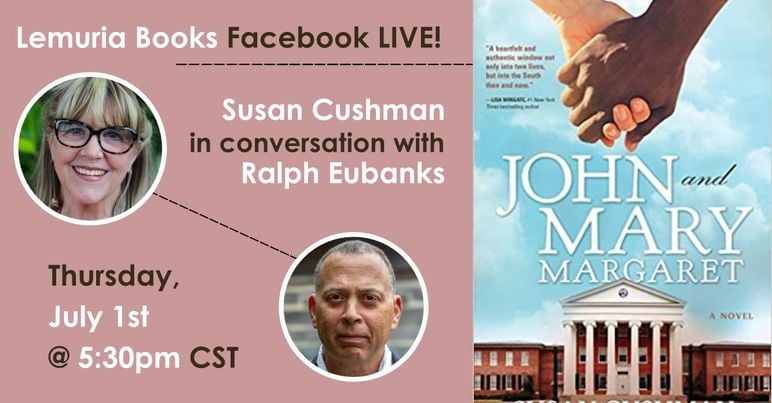 If you missed the event you can watch it here.
What's Next?
Now that the initial book tour is finished, I'm looking forward to meeting with five book clubs in Memphis, participating on a panel at the Mississippi Book Festival in Jackson, Mississippi on August 21, speaking with the Friends of the Library (again) down in Starkville, Mississippi, and continuing to do Zoom interviews. Watch the Press Room link on my website for links to interviews and book reviews. Thanks so much for reading!