Novellas
I love novellas. They are longer than a short story and shorter than a novel. They have gone in and out of vogue over the years, but I've always loved them. I was so excited to read a wonderful release in 2020 from Lee Smith, BLUE MARLIN. (Blue Marlin was #5 on my list of 40 books read in 2020.) When I started writing JOHN AND MARY MARGARET, I thought it would be a novella, but my publisher wanted a novel. So he got a very short novel. (50,000 words is a very small novel.) But I find a novella to be very satisfying. Hence my enjoyment of this new collection of five novellas in one book!
Christmas Classics Reimagined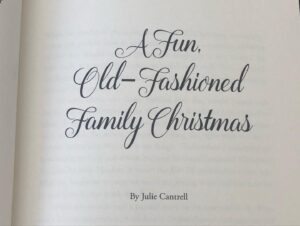 My friend and best-selling author Julie Cantrell had the wonderful idea to put together a collection of novellas that reflect on classic Christmas movies. Julie used the Griswold family in the 1989 movie "Christmas Vacation" as inspiration for her wonderful novella, "A Fun, Old-Fashioned Family Christmas." I fell in love with ALL the characters in this uplifting family drama with elements of hope and healing for a dysfunctional family.
Allison Pittman reflects on the 1940 movie "Remember the Night," starring Fred MacMurray and Barbara Stanwyck. I had never even heard of this movie, but that didn't stop me from enjoying her story and it well-drawn characters.
Three more novellas by authors Lynne Gentry, Kelli Stuart, and Janrye Tromp round out the collection,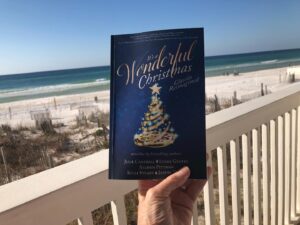 which would make a great Christmas gift! Send it early, so your friends and family can enjoy these stories all during the holiday season. I've been enjoying them at the beach on vacation this week, and now I'm inspired to get home and start decorating for Christmas!
Blurb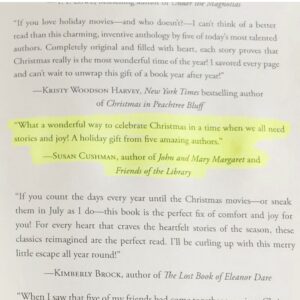 Julie asked me to write a blurb for the book just before it was released.
"What a wonderful way to celebrate Christmas in a time when we all need stories and joy! A holiday gift from five amazing authors."
It's a Wonderful Christmas is available in paperback or on Kindle. CLICK HERE for purchase options. Happy Holidays!