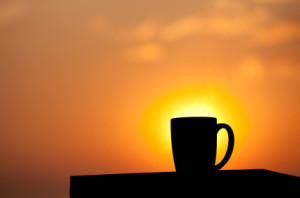 I'm writing this post in the dark. It's 6 a.m. and I've got physical therapy at 7:30. We made these early morning appointments when I wasn't driving, so that my husband could take me and not be so very late to work. I decided not to change them once I could drive myself, although I'm not a morning person. Something about watching the sunrise as I drive my new Venza through downtown Memphis is invigorating. And then by 8:30 I'll be finished with PT and ready to get the rest of the day going. Oh, and there's a McDonald's on the way home from PT, so I'll reward myself with my favorite guilty pleasure—sausage and biscuit.

As I waited for my Keurig to fill my coffee mug this morning, I thought about how the weekend affects our Monday morning emotions. As we return to "the grind," are we more upbeat and "happy" if we had a pleasurable weekend? Did our football teams win? (Way to go, Ole Miss and Tennessee! But oh, so sad watching Peyton's Bronco's lose to the Colts.) Was the weather nice? AWESOME here in Memphis—and what a blessing that I was able to get out and WALK around the block (on crutches) on Saturday and again on Sunday. Do we have something to look forward to this week? Funny that you should ask….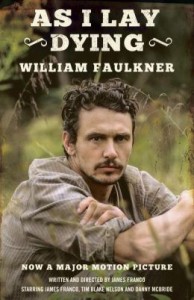 This afternoon, my best friend from Little Rock, Daphne, is coming over, and she and I are headed down to Oxford with my hubby for a special event tonight—the Mississippi premiere of James Franco's film adaptation of William Faulkner's "As I Lay Dying!"  The film will be at the Lyric on the square, with cocktail hour to meet the producers at 6 p.m. and then the movie at 7 p.m. $20 to benefit the Oxford Film Festival. Not only will this be my first road trip since my accident, but how fun to be heading to one of my favorite places with some of my favorite people.
Time to get dressed and head to PT. I can't skip yet, but my heart is skipping. And as the sun rises when I head over the bridge from Harbor Town, I'll be smiling.