Like Robert Goolrick's brutal honesty in his memoir, The End of the World as We Know It,  Burroughs offers candid reflections that are somehow—albeit darkly—comforting:
"I am not a happy person. There are things that do make me experience joy. But joy is a fleeting emotion, like a very long sneeze. A lot of the time what I feel is interested. Or I feel melancholy. And I also frequently feel tenderness, annoyance, confusion, fear, hopelessness. It doesn't all add up to anything I would call happiness. But what I'm thinking is, is that so terrible?"
I've ordered the book, and I can't wait to read his advice on such topics as "How to Be Fat" and "How to Feel Sorry For Yourself." What's happening here is something I think many of us need. He is giving us permission to NOT be happy. And to feel okay about not being happy at times. Or most of the time. If this is sounding too dark for you, read on:
"Being an unhappy person does not mean you must be sad or dark. You can be interested instead of happy. You can be fascinated instead of happy. The barrier to this, of course, is that in our super-positive society, we have an unspoken zero-tolerance policy for negativity…. Who among us is having a "Great!" day every day?"
Are you ever annoyed by the people who put sentimental pictures with "Have A Great Day" on Facebook fifteen times a day? It's like they have set the bar. What if I have a(nother) shitty day? What if I can't live up to their expectations? As Burroughs says:
"Giving yourself permission to feel an emotion without judgment or censorship can lessen the intensity of those negative emotions. Almost like you're letting them into the backyard to run around and get rid of that energy."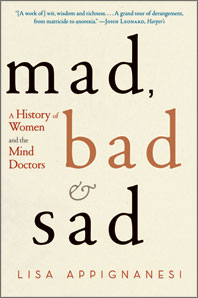 In this Bookslut interview with Lisa Appignanes, author of Mad, Bad and Sad: A History of Women and the Mind Doctors, Appignanes says:

"…gladness has become almost an imperative in itself, a kind of superego injunction, and so one is told to be happy. Certainly in America, and indeed the West, the pursuit of happiness carries its own burden of guilt when you're not happy, or experiencing dissatisfaction, because you haven't attained the ideal of happiness. So it has played back on itself, and the pursuit of gladness drives people mad as well."
The '50s housewife who greeted her husband at the end of the day, dressed to the nines, with a smile and a martini in hand still lives inside many of us today. Like Laura Brown in Michael Cunningham's brilliant book, The Hours. God, I still feel pressure to be her, don't you? As does the overworked husband coming in from a terrible day at the office, putting on a smile and saying, "Hi, honey, I'm home!" Here we are, fifty years later and so much has changed, but not society's icon of happiness. It's even in our Declaration of Independence—right up there with "life" and "liberty"—the "pursuit of happiness." It's our right to pursue it. But, must we?
If you must, Burroughs has this advice for pursing it:
"Whatever being happy means to you, it needs to be specific and also possible. When you have a blueprint for what happiness is, lay it over your life and see what you need to change so the images are more aligned. Still, this recipe of defining happiness and fiddling with your life to get it will work for some people—but not for others…. I am one of the others."
Me, too, Augusten. And so for today, my goal is not to be happy, but to be interested. And interesting. If moments of happiness are given to me today, I will embrace them with gratitude. If not, I will embrace whatever emotions I am feeling with honesty.
This past weekend I was with a group of writers at the Creative Nonfiction at the Crossroads writing workshop. (Come back for "Writing on Wednesday" to read more about the weekend.) We met at the Shakup Inn in Clarksdale, Mississippi, the "home of the blues." Of the dozen or so manuscripts that we critiqued, several were stories of unspeakable loss—a son who committed suicide, spouses who died too young, the aftermath of disasters like Katrina. The authors weren't pursing happiness in writing these stories. Maybe some of them were writing for therapy. But most were getting up and above their pain and creating art. I came away with a deep respect for each of them, and especially for their honesty. None of them were pretending to be happy. But they were interesting. And bold. And alive.