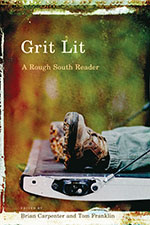 I'm only home for one day between two trips this week, so I'm departing from my new blog schedule today. Instead of two posts: Writing on Wednesdays and Faith on Fridays, you'll get a Two-For on Thursday. And it will be about both—writing and faith.
Having spent Tuesday night in Tom Franklin and Beth Ann Fennelly's lovely guest house in Oxford, Mississippi, I'm hopeful that the brilliance of those two authors rubbed off on me just a tiny bit. I almost couldn't sleep, as the guest bed is surrounded by floor-to-ceiling bookshelves full of enough treasures to please the best insomniac. The guesthouse doubles as Tom's writing studio, but the volumes of his work snuggle up next to Faulkner, Richard Ford, and dozens of others. I enjoyed a sneak preview at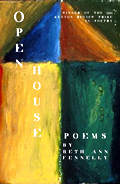 the newly published collection edited by Tom, Grit Lit. It's filled with stories about the "rough South" by twenty men and three women (aren't you curious which gals made the cut?) who paint uncut images of life below the Mason-Dixon line.
The next morning, while I was enjoying coffee with Tom and Beth Ann (and reading to their precious 20-month-old, Nolan) I mentioned how much I loved Beth Ann's poem, "The Snake Charmer," which was framed in the guesthouse. It's included in the only volume of poetry by Beth Ann that I didn't already own. She immediately pulled out a copy of Open House: Poems by Beth Ann Fennelly and inscribed it as a gift for me.  Later I sat on the porch swing reading the first poems in the book, including these words from "The Impossibility of Language":
The irony of metaphor:

you are closest to something

when naming what it's not.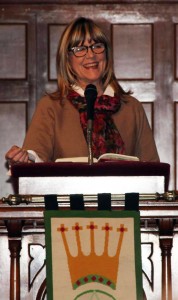 That describes a bit of how I felt as I stood in the pulpit (yes) at First Presbyterian Church in Oxford on Tuesday evening, reading to a mixed crowd of Presbyterians, Episcopalians (the event was also sponsored by St. Peter's Episcopal Church) and others from my essay in Circling Faith: Southern Women on Spirituality. Since I grew up in the Presbyterian Church (in Jackson, Mississippi) but left it for my new spiritual home in the ancient Orthodox faith, I wondered if our guests would see me as a turncoat. I couldn't have been more wrong. Everyone—from the pastor, John Semmes, to each person who introduced themselves or asked me to inscribe a copy of the book they had purchased from Square Books—was welcoming.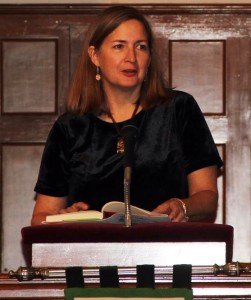 As Wendy Reed introduced the readings, and her co-editor, Jennifer Horne, read from the introduction to Circling Faith—the second anthology assembled by these two gifted women (the first was All Out of Faith: Southern Women on Spirituality)—I breathed in the familiar atmosphere of the faith of my father, who was a charter member of another Presbyterian Church back in the 1950s. How could I explain to these lovely people that I had found a church that was a better "fit" for me, just as I had purchased a new outfit for the reading, always a bit obsessed with my outward appearance? I found comfort in the words Jennifer read from the introduction:
"Of course, we do say something with what we wear. I want to be comfortable, I love the color red, I'd rather blend in than stand out, I feel sexy. It's all very well to consider the lilies in the field, but a lily never experienced closet trauma or wondered whether the field made her butt look big. So maybe clothing is an apt metaphor for the 'fit" of religious or spiritual practice. The wrong outfit can make you feel as though you are spiritually holding your stomach in. When you are wearing something that fits well and suits you, you feel unselfconscious, at ease."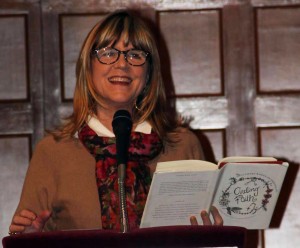 And I did, indeed, feel at ease once it was my turn at the pulpit and I got to share my story of leaving the faith of my childhood and taking a long and sometimes bumpy seventeen-year-journey to the Orthodox Church. I read about how I went to extremes along the way. I told about my pilgrimages to monasteries. About learning to paint icons. About the way the church did—and did not—help me with my ongoing recovery from sexual abuse and eating disorders.
I read about meeting my fellow panelists at the Southern Festival of Books in 2006 and falling in love with these "strong women of passion," as the introduction to the first anthology calls them. And finally, I shared about my recent efforts to find balance, and what the late Madeleine L'Engle called wholeness, and wondrous newness.
"…that newness has shown up to cheer me on as I embrace the darker aspects of my Mississippi childhood by laying down difficult chapters of my novel-in-progress. Sometimes I feel its presence during the sacrament of confession, when I've been up all night facing down my demons as I write, often chasing them with vodka or wine. Maybe my brokenness, like the egg yolks that I use to make tempera paint for my icons—themselves a form of life interrupted—is part of my offering to God."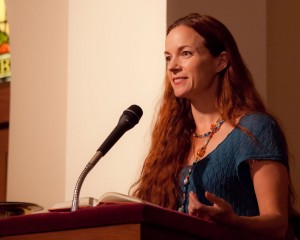 Beth Ann closed out the evening with her reading from "Taking Terroir on Faith." As a transplant to the South from Chicago, Beth Ann has embraced every aspect of her new home—even to the point of eating dirt. Yes, she wanted to experience geophagy, this phenomenon she had read about. Not only by doing research (and she did plenty of that) but also by tasting. By taking the dirt of her new world into her body, just as we take the body of Jesus into ourselves during communion. She's also "church shopping," and currently finds herself at First Presbyterian, where the event was held on Tuesday night. And so she read to her fellow parishioners, her pastor, and the other visitors about how cultivating a taste for church compares with cultivating a taste for dirt:
"The search for a church has been a little more successful. My husband and I have been attending a service that doesn't feel so restrictive that we balk and chafe, but doesn't feel so loosey-goosey that we wonder why we bother to dress up. Yet I still wouldn't say I wake up on Sunday mornings with an urge to go there. And I certainly couldn't call it a compulsion. But I have the idea somehow that I should stick with it. Maybe the only way I'll learn whether I can nurture a craving is by feeding myself…. Maybe educating my palate is the first step. Maybe the leap comes next."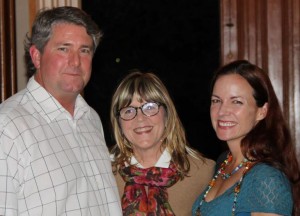 I'm so thankful to Neil White for organizing this event, to our sponsors, Nautilus Publishing, First Presbyterian Church, St. Peter's Episcopal Church, and Square Books. And especially to my friend and fellow writer, Doug McLain, who drove to Oxford to support me (and photograph the event—thanks, Doug!) and writing buddy, Michelle Bright, and the rest of the (49) people who came out to listen, including: John Semmes, the pastor at First Presbyterian, whom I enjoyed visiting with; Mary Ann Bowen, the freelance editor who is helping me with my novel; Anne Fisher-Wirth, poet, writer and professor at Ole Miss, Margaret Love-Denman, with whom I took a writing workshop a few years ago, storyteller, actress and playwright, Rebecca Jernigan, whom I met at the 2008 Yoknapatawpha Summer Writers Workshop, and the other lovely people I enjoyed meeting so much.
As I inscribed books, I found myself writing "keep the faith" at first, but later I began to write "keep circling," which describes an honest seeking in response to the longing of the human heart for something beyond itself.
I'm off to Clarksdale, Mississippi, tomorrow, for a weekend with another group of writers. This time I'll be reading and giving a short talk at the Creative Nonfiction in the Delta workshop, organized by my friend, Kathy Rhodes. Neil White will be the keynote speaker. I've never been to Clarksdale, so I'm looking forward to staying at the "Shackup Inn" and taking in some Delta blues while I'm there.
Here are a few more pictures from the event in Oxford. Photos by Doug McLain, except for the one of Beth Ann Fennelly reading.