Today I'm feeling incredibly blessed. Yesterday morning I signed a contract for my novel, Cherry Bomb! My publisher is Joe Lee at Dogwood Press in Brandon, Mississippi. Not only is Joe a publisher, he's a journalist, author, and editor. He has guided me through the manuscript with great care and understanding and I'm thrilled with the book it is becoming.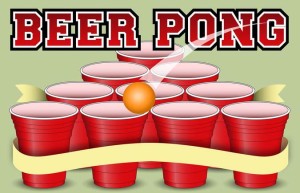 So why "quadfecta"? I was checking to be sure that's the word I'm looking for when I came upon this hilarious definition:
A legendary beer pong shot that lands on the tops of four cups simultaneously. Considered the rarest shot in the game, topping even the trifecta 2-cup knockover-and-sink, and simultaneous 6-cup game-ending double bounce-in. Counts as 4 cups and has never happened in recorded history of the game, despite being theoretically possible.
Okay, so this isn't about beer pong, but it's about my publishing news, which now includes 4 book deals!
Tangles and Plaques: A Mother and Daughter Face Alzheimer's (eLectio Publishing, February 2017) is a collection of essays culled from sixty posts covering almost a decade of long-distance caregiving for my mother, who died from Alzheikmer's this past May. The book will show that the tangles and plaques aren't only in our brains, but often in our relationships.
A Second Blooming the Women We Are Meant to Be (Mercer University Press, March 2017) is also a collection of essays, but this time I'm the editor. Twenty women authors write about second bloomings in their lives. For some it's second marriages, or second careers. Others write about physical or mental trauma, loss of a loved one, incarceration, rape, and a difficult journey to sobriety.
Cherry Bomb (Dogwood Press, October 2017) is my novel. Cherry Bomb chronicles the lives and suffering of three women whose fates are unexpectedly intertwined: MARE, a teen graffiti artist emerging from a lifetime of abuse at the hands of her cult-leading father and foster parents; ELAINE de KOONING, an Abstract Expressionist artist whose interactions with Mare dredge up painful memories of a shameful past; and SISTER SUSANNAH, an artist and nun whose reclusive tendencies belie her deep connection to the world around her. All three women's lives converge around a weeping icon of St. Mary of Egypt, a 5th century prostitute whose awakening to grace leads her to ultimate salvation.
So Y'all Think You Can Write: Southern Writers on Writing (University Press of Mississippi, 2018). I am editing this collection of essays by Southern authors (men and women) writing about their craft. With a Foreword by Alan Lightman and previously published material by Pat Conroy and Lee Smith, the anthology will include over twenty five new essays by some of the South's best (well-known and lesser-known) writers.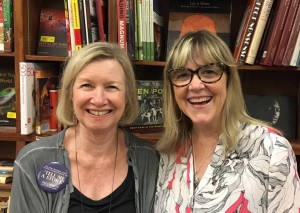 I had a great time celebrating last night with my husband in Oxford. First we toasted my news with martinis on the balcony at the City Grocery Bar. Then we went to the Thacker Mountain Radio show at Off Square Books. It was an awesome show featuring great music and authors Cassandra King (reading from A Lowcountry Heart, a collection of Pat Conroy's words on Writing) and George Plasketes. Jim Dees did a great job hosting, as usual, and I was happy to get a copy of his new book, The Statue and the Fury – A Year of Art, Race, Music and Cocktails(Nautilus Press). We had a wonderful time visiting with Cassandra and George and others at the after party, before heading over to the Inn at Ole Miss for a weeknight sleepover.
This afternoon I'm driving back to Memphis with my spirits lifted by time spent with these creative people. And of course, the news of my quadfecta. So here's a question: If you don't like beer, can you play with vodka or tequila?
Have a great weekend, everyone!