Reading the Coffee Grounds and Other Stories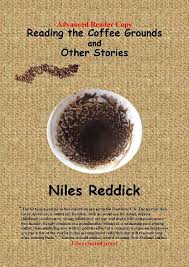 by Niles Reddick
Book Review by Susan Cushman
As I write this review of Pulitzer nominee Niles Reddick's latest short story collection, Reading the Coffee Grounds and Other Stories, I am also taking a stab at working in this genre for the first time myself. As a novelist, memoirist, essayist, and anthology editor, writing short stories is a new experience for me. I'm in awe of how these stories seem to pour forth from Reddick's pen in a way that appears so damn easy. But I'm also surprised as how much fun I'm having writing my own collection.
O. Henry said, "I'll give you the whole secret to short story writing. Here it is. Rule 1: Write stories that please yourself. There is no Rule 2."
I asked Reddick for his response to O. Henry's "secret," curious as to what it is that draws him to the genre. Here's his reply:
"I was influenced by the short story genre as a college student and found my voice among the southern writers. The flash piece or short story is more in keeping with my work and family life from a time perspective, and as a reader, I love to read in this genre. I think short stories are making a comeback because of time."
In this collection of forty-five (very) short stories, Reddick shows us why he is an award-winning author. His concise attention to detail, his equally gifted approach to the humorous and the grotesque—often combining the two—and his ability to make everyday events appear larger than life are all very much in the tradition of O'Connor and Welty. The stories in this collection could be called flash fiction, which, according to Writer's Digest, can be defined as "complete stories of fewer than 1,500, 1,000, 500 or even 300 words." Most of the stories in Coffee Grounds are less than 1,000 words. The writer's challenge given this short span is to create a narrative with a beginning, a middle, and a satisfying end, while imbuing the characters with depth. Some of these stories, like "First Pitch," read more like an anecdote or sweet memory, without the conflict and resolution that's typical and expected in longer stories and novels. Eudora Welty explains how this works:
"A short story is confined to one mood, to which everything in the story pertains. Characters, setting, time, events, are all subject to the mood. And you can try more ephemeral, more fleeting things in a story – you can work more by suggestion – than in a novel. Less is resolved, more is suggested, perhaps."
For more to be suggested, every paragraph, every sentence, indeed every word, must be packed with action, emotion, details—everything necessary to draw the reader in and keep her attention, much like writing poetry. As Tobias Wolff says, "Everything has to be pulling weight in a short story for it to be really of the first order." Ron Rash agrees, saying that "Short fiction is the medium I love the most, because it requires that I bring everything I've learned about poetry – the concision, the ability to say something as vividly as possible – but also the ability to create a narrative that, though lacking a novel's length, satisfies the reader."
How did Reddick accomplish these goals in this group of stories? His opening story, "The Last Word," (my personal favorite and a great choice for an opener) follows a multi-layered protagonist and her fascinating journey as an author and caregiver. I wanted her to be real so I could read her stories! In what appears to be less than 600 words, we fall in love with Annis. We care about her deeply and we don't want the story to be over.
Many of Reddick's characters are eccentric (there's that O'Connor trait), like the old man with Alzheimer's who grabs a woman's ass in Wal-Mart, the wet nurse who uses afterbirth as a poultice to heal injuries, and the librarian who puts down her cancer-ridden rescue cats by holding them underwater until they drown, and whose three husbands died mysteriously. Most of the stories are light-hearted, but some have serious themes, like "The Jog," which is about a rape; "Mud Island Monorail," which involves a near-death experience; "Staying Close," a cautionary tale about child abduction; and "Sanctuary," which deals with crack cocaine and suicide.
Raymond Carver says, "It's possible, in a poem or short story, to write about commonplace things and objects using commonplace but precise language, and to endow those things – a chair, a window curtain, a fork, a stone, a woman's earring – with immense, even startling power." The story that best shows Reddick's use of this power might be "The Graduate Cabin." The longest in the collection—probably over 2,000 words—this one delivers a powerful punch with details about a UFO and Bigfoot sighting, a lesbian Wiccan, a Korean Army vet who explains his farting with his love for kimchi, Joan Baez, The Indigo Girls, and a French psychic. All in one story!
This morning I read a poem by a fifth grader on Roger Housden's site (published in Poetic Medicine, by John Fox). "Waiting in Line" opens with these words:
"When you listen you reach
into dark corners and
pull out your wonders."
That's how I felt reading the stories in Reddick's book. Like I was "pulling out wonders" as I encountered the colorful characters he created and the sometimes ordinary and sometimes extraordinary things they experience. Maybe this is how one should feel when encountering good short fiction. George Saunders seems to agree:
"When you read a short story, you come out a little more aware and a little more in love with the world around you."