Last night I woke up at 1:30 a.m. and couldn't go back to sleep. I got up, did some writing on the computer (not a good idea when
one is having trouble sleeping!) and then read for a while. Finally I went back to bed around 3:30 a.m., but my mind was still buzzing. The last time I looked at the clock it was close to 4 a.m. I remember falling asleep with the Jesus Prayer going through my mind and heart. Why didn't I try that first, before getting on the computer and reading? Why didn't I think to approach my insomnia and monkey mind with mindfulness?
Earlier in the evening I had gone to a different sort of book event. Two Memphis authors—Suzanne Smith Henley and Greg Graber—discussed their books at the first ever book reading and signing at Church Health Center at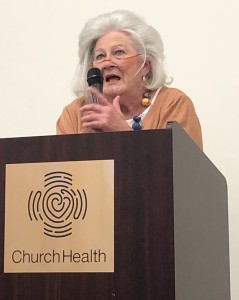 the Crosstown Concourse. I went because of my friendship with Suzanne, whom I've known since 2011 when she attended a creative nonfiction workshop I led at the Fogelman Center on the campus of the University of Memphis. I was also in a writers group with Suzanne for several years, and I was honored to be an early reader for her book, Bead by Bead: The Ancient Way of Praying Made New. I did a review of the book here on my blog back in March, and a review on Amazon, "Rehab, Heart Attacks, and the Holy Spirit Riding a Harley." It was fun hearing Suzanne talk about her book again, with her unique perspective on the use of prayer beads and what she called "rebranding prayer."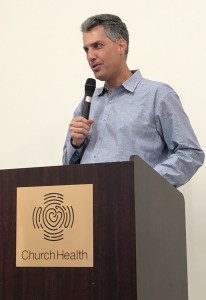 Greg Graber is the head of Middle School at Lausanne Collegiate School, and a mindfulness coach for the Memphis Grizzlies and several other sports teams. He spoke about his book, Slow Your Roll: Mindfulness For Fast Times. Greg also leads mindfulness workshops at the Church Health Center on Saturday mornings. His message about slowing down in this age of smart phones, tablets, and social media is timely and important, and can be incorporated into the lives of people of all faiths.
Suzanne and Greg were introduced by Dr. Scott Morris, founder and CEO of Church Health in Memphis, the largest faith-based healthcare ministry of its type. He's a physician and a United Methodist pastor. I picked up a copy of the Church Health Reader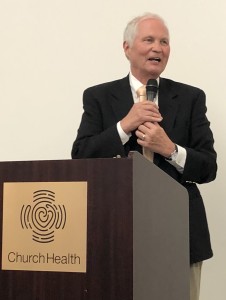 (Summer 2018, Volume 8, Number 3) while I was at the event, and was interested to read Scott's article, "The Way of the Pilgrim." Scott writes about his experience in college and beyond practicing transcendental meditation (TM). He says, "Even though I liked how it calmed my mind, I didn't feel grounded in anything that was about God."
He goes on to write about how the Jesus Prayer opened him to a Christian form of mindfulness:
When I first tried the Jesus Prayer with Henri Nouwen, it immediately seemed like TM. I just replaced om with the short prayer…. Years later I picked up a little book—it was only about three inches long—titled The Way of the Pilgrim…. I needed to try something, so I said to myself, 'Start praying.'

'Lord Jesus Christ, Son of God, have mercy on me.'

These days we hear less about the Hari Krishnas and TM, but mindfulness and meditation are widespread and have proven health and spiritual benefits. Many people of faith use mindfulness practices for the same reasons I've used the Jesus Prayer all these years—to let go of everything that clutters our mind and be fully present in this moment, to be present in prayer, to experience it more clearly, and perhaps to find God waiting there.
There's also an article in this issue of the Church Health Reader by Tim Stead titled "Mindfulness in the Christian Tradition," which addresses the differences in the Buddhist approach and the Christian approach.
And another article by advanced practice psychiatric-mental health clinical nurse specialist Jane Slatery, "Will It Really Make Me Feel Better?" It's about the research on mindfulness and medicine.
Some of these articles are available online (the ones with links) but others are only in the print edition. SUBSCRIBE to the Church Health Reader HERE. I just started my subscription and am looking forward to future issues. Join me?