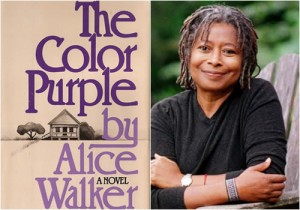 Yesterday I read a wonderful interview with Pulitzer-Prize-winning author, Alice Walker (The Color Purple) who is also a contributor to Circling Faith: Southern Women on Spirituality. (I still can't believe my essay is in the same anthology!)
Walker's interview in Guernica is part of last week's celebration of "Banned Books Week," September 30-October 6. Walker responds to questions about why The Color Purple was continually challenged and banned over 25 years after winning the Pulitzer and the National Book Award (1983):
"I realized, given the sexism in our culture, that some of the complainers were probably people who had at some time sexually abused children.  Or, they had been sexually abused themselves and could not bear thinking about it, as adults. . . .  I actually felt a lot of compassion for everyone. . . .  The lesbian nature of Shug and Celie's relationship was especially hard to bear . . . .  And yet, for me, those considerations were all secondary to the overarching expression in the book of spirituality and the assurance found by many of the characters that the divine is all around us in Nature."
I'm jumping up and down in my computer chair (metaphorically) as I read these words. My novel, Cherry Bomb—which is now being read and considered by several literary agents—is shot through with themes that will be offensive to some readers. Especially the sexual abuse. And challenges to patriarchal authority, especially in the South. But I'm not trying to please everyone. As Walker continues:
"I have a job. I will write what I think is right for me to write. . . . Great Literature is help for humans.  It is medicine of the highest order.  In a more aware culture, writers would be considered priests. . . .   I know what The Color Purple can mean to people, women and men, who have no voice. Who believe they have few choices in life.  It can open to them, to their view, the full abundance of this amazing journey we are all on.  It can lift them into a new realization of their own power, beauty, love, courage."
Yes! All three of the protags in my novel are women who had no voice. Who search for their voice, through art. Or spirituality. Or both. And while Walker's novel is set in the midst of a huge racial struggle, she insists:
". . . I'm not writing simply about race.  Always I am writing about human beings first, humans who have other attributes that embellish or hinder their soul's journey."
Those "attributes that embellish or hinder their soul's journey" are the stuff that great character-driven novels are all about.  My wish for my novel is that Mare, Elaine and Neema's soul journeys will capture the hearts of my readers. And if the hard stuff they suffer along the way offends anyone, I can only join Walker in saying:
"I left the struggle up to others.  I had delivered my gift.  It was given in complete love to everyone."
At this point you might be thinking I'm pretty arrogant to compare my work to Walker's. But that's not what this is about. It's about being thankful for role models like her, who have set the standard for "writing it right." For truthfulness and courage. For outstanding literary prose. And for doing all of this from a point of interior peace. Near the end of her contribution to Circling Faith, Walker says:
"It's never too late to start trying to bring peace to yourself and take that into the world, which is what I try in my life to do, because I really do understand that, unless you have it in yourself, there's no possibility of giving it."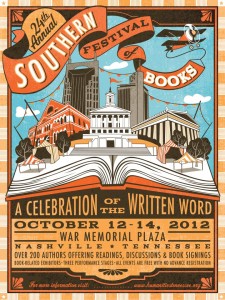 And so today I wish peace to my readers. To my friends who are writers—who are delivering their gifts to the world out of love. They are all my heroes. I'm looking forward to hanging out with some of those heroes at the Southern Festival of Books in Nashville this weekend. I'll be on a panel with the editors of Circling Faith at 12 p.m. on Sunday, October 14, in the Legislative Plaza, Room 31. And at the author signing colonnade at 1 p.m. But I'll also be attending as many talks and readings as I can get around to during the weekend.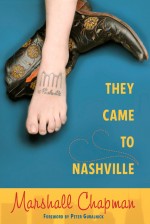 I'm especially excited about joining friends at Marshall Chapman's musical show at the Bluebird Café on Saturday night! Marshall is the author of They Came to Nashville and Goodbye, Little Rock and Roller. She also contributed a wonderful essay to Circling Faith: Southern Women on Spirituality

Did you know that in 2011, To Kill a Mockingbird was one of the top 10 "challenged" books? The reasons given were "offensive language" and "racism." How do you feel about book banning? I'd love to hear your thoughts, so please leave a comment here, or start or join a thread on Facebook. Thanks for reading.