Writing on Wednesday: Jason's Ode to Granny Effie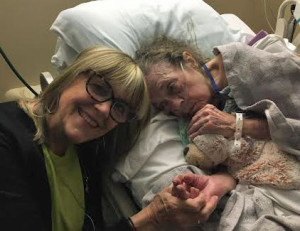 Paris was wonderful! So busy there was no time for blogging. But while we were there my 88-year-old mother was taken to the hospital. We got home late Tuesday night, and I was able to drive to Jackson Wednesday afternoon to be with her, thankfully before she leaves us for Heaven. She seems comfortable, with help from oxygen and Morphine, but mostly from all the folks in Jackson who have been with her while I was in Paris, and also our oldest son, Jon, and our niece, Aubrey Leigh.
She squeezes my hands as I sing to her and read the 23rd Psalm (her favorite) and tell her that Jesus is preparing a place for her in Heaven. We are just waiting with her as she makes this final journey. It is a sacred place, this waiting. I remember doing it with my father back in 1998.
Our younger son, Jason, posted the following words about his grandmother on Facebook the other day. Jason is a compassionate soul, and also a good writer, so I want to share what I have called his "Ode to Granny Effie."
What do I remember about you?

I remember a woman that was always happy. Always so polite and hospitable. I could instantly see where my mother got her manners from, manners she then passed on to her children. "Southern Hospitality" is more than just a phrase. It has deep meaning in the way we treat other people and no one was more loving than you. I don't remember ever hearing you say a word in anger. Not once. But I also can't remember Papaw saying a word in anger either… so perhaps that is just how all grandkids are supposed to remember the elders they love and respect. I remember feeling different, but never feeling like I was "adopted" in Jackson, Mississippi. This is no small thing because I was continuously reminded of that later in life. There are frozen mental images of Phidippides , clothes on racks, a back room with a play area, and a workout room. I don't know what is my memory and what are figments of my imagination, but in most of them you are smiling. You are there offering us a peppermint piece of gum, the square ones with the liquid in the middle. They are great memories because I remember you in them. I imagine, although I thankfully can't remember, that my year prior to arriving in Jackson was not the happiest time in my life. I imagine a lot of the happiness I found was due to your kindness, that of you and your husband. The gift of your daughter, my mother, and their gift in turn in adopting me. Of giving me the life that although sometimes has been dark… now is a light unto itself with my wife and children, which I never thought I would have. I hope you aren't in pain right now. I hope you know we love you.

Jason Cushman