Mental Health Monday: Binge Watching, Continued…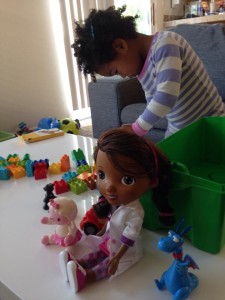 Back in June I did  post about binge-watching Netflix shows, called "The Anatomy of a Binge." At that time I was into "Breaking Bad" on Netflix. In August I moved on to "Orange is the New Black," which I'm still watching. Great show. The acting is terrific, and also the writing. I love the way the characters' back-stories are revealed with flashback scenes as the show proceeds. (More on that show another time.) This week I'm binge-watching "Doc McStuffins." Just discovered that the main character's mother is a real doctor, her father shows up a little more as the show proceeds, and her brother doesn't know about her special healing powers. Mostly I love how kind Doc is to all her patients. And how much my granddaughters love her. I think she's a terrific role model. And each episode delivers a great life lesson for kids of all ages… like me!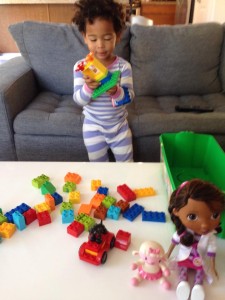 I'm in Denver this week visiting two of my kids and their families, which includes my three granddaughters, Grace (5), Anna (4) and Gabby (2). So I won't be blogging much this week. Instead I'll share some pictures which might show a little of the beauty of Denver in September and the joy of being with these three amazing little girls and their families! Happy Monday!
(The artful photos of Grace and Anna at the end were gifts they greeted me with on Saturday.)