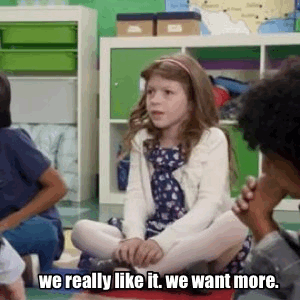 I love the AT&T commercials featuring Beck Bennett and those cute little kids. I don't know how much is scripted and how much the kids ad lib, but a lot of our humanness comes through in these 30-second spots. (This article says the spots are "guided improv," FYI.) Like the one where the little girl keeps saying, "We want more! We want more!"
But once I got over how cute the spot is, I thought about how early in our lives the craving for "more" starts. And how devastating it can be when we aren't able to moderate it as adults. What we want more of can be anything—money, food, clothes, sex, fame, success, alcohol, love, attention—it's the wanting that gets us.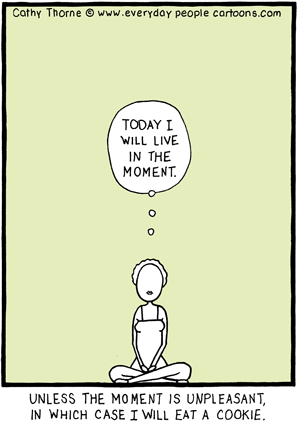 For me, it's usually food or drink, although I'm also easily sucked into a myriad of other desires. Last August I wrote a post about an essay I had written called, "Eat, Drink, Repeat." At that point, I had shopped the essay out to a few places, but it wasn't accepted for publication, so I quit thinking about it for a while.
And then this spring, I was invited to contribute a short story or essay to a new anthology, The Shoe Burnin' Antholoy: Stories of Southern Soul (coming out in November). I submitted an essay that the editors liked, but in working with them on revisions, I was asked to please send something else I had written (published or unpublished) so that they could get a better feel for my "voice." I sent links to several published pieces, and then I sent my essay, "Eat, Drink, Repeat." Well, it turned out they loved it and asked if they could use it instead of the original essay I had submitted. Fine with me. We worked together on a few revisions and it was done.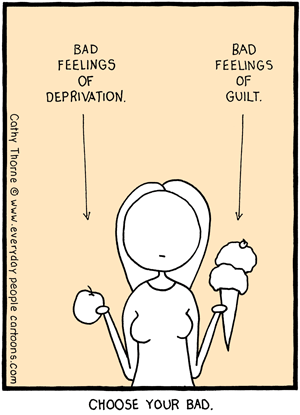 So, next week I'm headed down to Fairhope, Alabama, for some pre-publishing events, including the making of a video and some photo shoots with the other contributors to the anthology. Some of them are musicians. (A CD will be included with the book.) Ironically, as I've been considering the photo shoots and feeling fat and worried about what to wear and how I will look, I've been struggling again with binge eating and depression, the very thing I wrote about in the essay:
I celebrate the marriage of chips and queso with gin and tonic for about thirty minutes. And then it's over. I place my hand over my full belly, moving it across my disappearing waistline and running it quickly over my growing love handles. I consider purging, a practice I haven't outgrown from my teenage years. More shame sets in.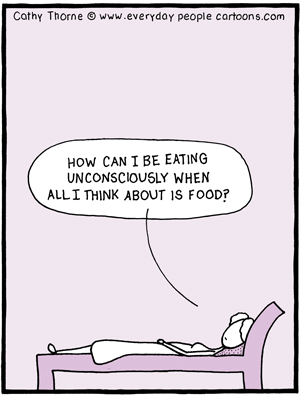 Cathy Thorne's insightful cartoons are helping me lighten up a bit, and I hope I'll be able to shed some of my insecurities and enjoy being with this amazing group of talented folks down in Fairhope next week. And maybe Beck Bennett's kids can help me believe in myself.