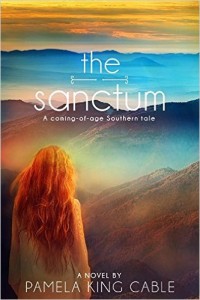 About a month ago I was interviewed by the author Pam Cable for her blog. Pam is a generous writer who reaches out to others and promotes their writing journeys, and I was honored to be included.
And now I'd like to return the favor by offering this short review of her new book, The Sanctum, which was just released. First I'll share the blurb she asked me to write, and then a very short review. Not that the book doesn't deserve a longer one, but I don't want to share any spoilers!

The blurb:
Pamela Cable has crafted a mystical coming of age story with The Sanctum that reminds one of Sue Monk Kidd's The Secret Life of Bees. Set just north of Kidd's story, in the mountains of North Carolina, but with similar trappings—a young protagonist escapes an abusive upbringing and finds herself in a surprising Native American setting where family secrets are revealed and a lifetime of suffering is avenged. Cable's Neeley also takes the reader back to Harper Lee's "Scout" in To Kill a Mockingbird. Beautiful prose dotted with colorful dialogue and panoramic scenery enriches this page-turning Southern mystery.—Susan Cushman, editor, A Second Blooming: Becoming the Women We Are Meant to Be (coming in 2017 from Mercer Universitiy Press); contributor to The Shoe Burnin': Stories of Southern Soul and Circling Faith: Southern Women on Spirituality.
The Sanctum review:
"With Comparisons to The Secret Life of Bees and To Kill a Mockingbird"

Not what I expected. I knew Pamela Cable's novel would embody elements of childhood abuse, cult-like environments, and redemption. But I wasn't ready for the wealth of cultural richness revealed through the Native American history she weaves beautifully throughout the story and the spiritual environment in which she sets the second half of The Sanctum.

Jim Crow and totem poles in one story? Cable's brave young protagonist Neeley calls to mind Harper's Lee's Scout from To Kill a Mockingbird. Set two decades later—in the 1950s and 60s—not much has changed in the racially oppressed South. Neeley's African American hero Gideon Jackson is embraced by readers as much or more than Scout's Tom Robinson.

Neeley also reminds the reader of Sue Monk Kidd's 14-year-old Lily from The Secret Life of Bees, born around the same time as Neeley—in 1950—in South Carolina. All three heroines, Scout, Lily, and Neeley, share wisdom and courage and a thirst for justice and understanding beyond their years.