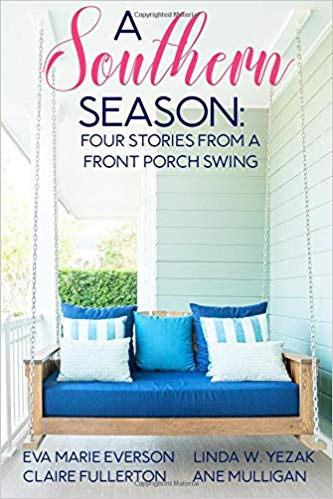 My friend and native Memphian Claire Fullerton—author of the wonderful novel Mourning Dove, which I reviewed here—has just had a novella/long short story published in a new collection:
A Southern Season: Four Stories From a Front Porch Swing.
I haven't read the other three stories, but I started with Claire's and read it yesterday. "Through An Autumn Window" is set in Memphis in the fall, so it was perfect reading for me since I live in Memphis and it's fall here!
"Through An Autumn Window" is told through the voice of forty-year-old Cate Goodwyn, a Memphis native who is returning home from California for her mother's funeral. Cate loves fall, and Claire's words capture that love and the magic of the season beautifully:
Everything about the fall offers something to intrigue me: wind and mist and all things unseen. I've always liked the idea of that which lies beneath the surface. Even my way of God-fearing has a sense of mystical magic. There's something about fall's hesitant introspection that speaks to the core of my being, when everythig on earth takes a big exhale before winter comes barreling through to freeze it.
After giving us a lyrical glimpse into fall in the South, Claire gets more specific as she writes through Cate's voice about her home town, Memphis:
The Memphis I know is coiffed but understated to an elegant degree. It is tasteful without being flashy. Homespun without being down-home…. Because the thing of it is, the Memphis I know is tightly woven. It's a web of connections to an old family milieu, and it's the rare one, such as me, that ever strays outside it.
And later she expands this description:
When you grow up with a mother like mine, a product of the old South, in a Southern city that feels more like a small town, as Memphis does, there's a pitch and roll to the milieu, to your makeup that no move to California or anywhere else on the planet will ever effect.
As a native of Jackson, Mississippi, I could imagine myself writing in a soulful way about my home town, but I've lived in Memphis for thirty years, and I still don't feel the "web of connections" here, and I'll never have the "old family milieu" that Claire writes about, and that makes me a bit sad. As I read this story, I found myself wishing that I had grown up in Cate's world.  Even though I've lived for the past six years in my favorite neighborhood ever—Harbor Town—Cate's family was the first to live here back in 1987, when the neighborhood was first developed. She grew up here in this magical place where I often still feel like a visitor. But enough about me.
Cate's mother Daphne Goodwyn is the quintessential Southern belle, even as she struggles with cancer as she nears seventy, "Because she wouldn't allow herself unseemly behavior, she acted as if her cancer was little more than the flu." 
I love this glimpse into her mothering style, and her skill at passing down her personal take on life to her daughter, as she entered kindergarten:
'The trick to making new friends is to make eye contact,' my mother continued. 'Keep a smile on your face, and let your new friend do the talking. This way you can appear interested. People always like those that do.' In no uncertain terms, in that indelible instant, I learned the game rules of Southern society to see me through the rest of my life.
Cate later describes the relationship between her mother and her mother's best friend, Melia:
They were the way-showers who taught by the power of feminine example. They were role models who kept Southern culture beautiful by keeping everything light and pleasant.
Even when someone was dying. Or when there's a funeral to attend, and a bossy older brother, sleazy step-father, and obnoxious step niece (?) to deal with. As Cate says, "the one thing I knew from my history with Southern funerals is that all you have to do is wait for it because something always goes wrong.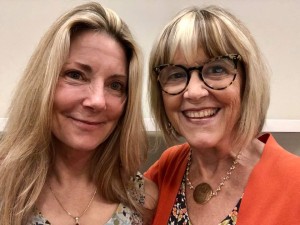 I won't tell you what goes wrong in the story—no spoilers here—but I found myself remembering my own mother's funeral from just over two years ago in Jackson, Mississippi, and being thankful that there weren't any contentious people to deal with. And unlike Cate—who lost her mother at age seventy—I lost mine at age eighty-eight after a long journey with Alzheimer's. I had actually "lost" her years earlier, so my grief was different than Cate's. But I could understand her thoughts as she expressed them internally:
I now belonged to this gracious, well-mannered domain in a different context, and it came to me with confliction that no woman truly discovers who she is until the day she buries her mother, when she is left to walk this earth alone.
If the other stories—from winter, spring, and summer—are anything like Claire's autumn tale, I'm really going to enjoy the rest of this book. I don't know the other three authors, but I'm looking forward to getting a glimpse into their psyches and writing style as I pour myself into their stories. Kudos to Claire for her beautiful, lyrical writing, and powerful images in this story of autumn in Memphis!