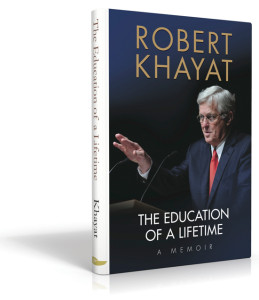 (Nautilus Publishing; September 10, 2013; $24.95; ISBN: 978-936-946-17-4)
I hated to miss the launch of former Ole Miss Chancellor, Robert Khayat's, wonderful book, The Education of a Lifetime, at Square Books in Oxford last night. I'm sure it was a terrific celebration in a town that owes so much to Khayat's vision, courage, and dedication to excellence.
As Neil White, Creative Director and Publisher at The Nautilus Publishing Company says:
The reader relives, along with the author, the courting of eccentric donors; private conversations with presidents, governors, football coaches, and celebrities; and the struggle to find a balance between the South's past and a promising future.
All that and more is explored between the pages of Khayat's memoir. I was captivated by the stories of his childhood, football career, law school adventures, and finally, his years as the University of Mississippi's 15th Chancellor. I felt I was in the classroom as he taught John Grisham (who wrote his way through a law exam with his talent for writing fiction). I enjoyed reading about people I've known for years—like Dr. Arthur Guyton and his daughter, Jeannie, who saved Khayat's life when he was ill with pancreatitis, and Sarah and Coach "Wobble" Davidson, whose daughter, Deb, is one of my best friends—and learning more about their contributions to the story.
Of course Khayat's memoir is about much more than football, but as he says:
The spectacle of college football is beautiful. The games bring friends and former classmates to the campus. The university gains widespread national and international exposure. Game-day picnics create communities of people who view those moments as sacred. The bands, cheerleaders, and athletes create magical moments for the fans….And when a team is winning, its fan base is more likely to support non-athletic endeavors at the college or university.
As a new chancellor, Khayat worked to achieve balance between the academic, athletic, social and political realms at the university.  He worked to distance the university's image from racially charged symbols of the Old South, for which he even received death threats. His memoir gives us all a terrific behind-the-scenes look at how a university moved from mediocrity to excellence. A few of his achievements before he retired:
The University was awarded a chapter of Phi Beta Kappa, into which 813 Ole Miss students have been inducted.
A nationally ranked honors college was established.
A groundbreaking institute for racial reconciliation was launched.
A permanent leadership institute was built.
A top international studies program was created.
Between 1995 and 2009, enrollment at Ole Miss increased 43.6 per cent; minority enrollment grew 78.5 per cent.
The university's budget grew from $500 million to $1.5 billion.
Ole Miss hosted the very first presidential debate where a minority candidate took the stage.
As Oxford co-authors of The Tilted World, Beth Ann Fennelly and Tom Franklin say:
The Education of a Lifetime should be read by all who love the South, and by all who can't conceive of such love. This is a book for everyone.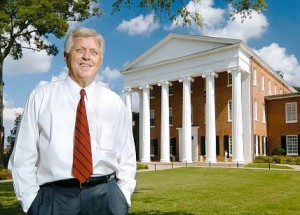 Amen.
This ends my "literary hat trick." What a joy it's been to read these three terrific books this summer!
You can buy The Education of a Lifetime from The Nautilus Publishing Company or from lots of great bookstores.
If you missed Khayat's reading in Oxford last night, maybe you can catch up with him at one of his future events. See the full schedule here. And since I'm a Jackson native, I'll give a special mention to his appearance on September 24 at Lemuria Books in Jackson.