Tomorrow, April 1, is my Name Day. In the Orthodox Church, one's Name Day is the day that a person's patron saint is commemorated. Saint Mary of Egypt is my patron, and she actually gets two feast days in the Church calendar: April 1 (commemorating her death) and the Fifth Sunday of Great Lent (a moveable date). I have sometimes thought it an odd coincidence that her Feast Day coincides with April Fools' Day in the American secular calendar. While Mary of Egypt doesn't exactly fit the criterion for a "fool For Christ," her life is certainly exceptional.
I've blogged about her numerous times, so if you want to see my previous reflections on her, check out these:

"A Different Kind of April Fool"
"Red Flags and Red Bar at Grayton Beach on Saint Mary of Egypt Sunday"
But this post isn't going to focus on Saint Mary's importance in the tradition of the Church. Today I'm writing about her place in fiction. She was a real person who lived in Egypt in the fourth century, but I fictionalized her childhood in my novel, Cherry Bomb, and gave her the name, "Neema." She is one of the three main characters in the novel. Another character is Elaine deKooning. She is based on the real-life Abstract Expressionist artist of the same name, but I fictionalized much of her life in my novel. The third character, "Mare,"—the protagonist—is a completely fictional character. The idea for interweaving the lives of fictional and non-fictional characters isn't new with me, of course. Michael Cunningham's novel, The Hours, was the inspiration behind the structure for my book, and there are others out there with similar approaches.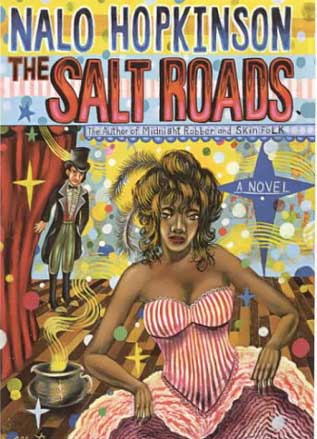 So imagine my surprise to discover yesterday, as I was preparing this post, a science fiction/fantasy novel with a similar structure… including a character based (loosely) on Saint Mary of Egypt! The Salt Roads by Nalo Hopkinson is about a fertility goddess who inhabits three different female characters at different times during the story. One of those characters is "Thais," also known as "Meritet," a young girl sold into prostitution in Alexandria, Egypt, in 325. She even goes to the desert, where she is found by Priest Zosimus (which parallels the true story of Mary of Egypt) who believes she is a prophet who "speaks the word of Mary." Junot Diaz called The Salt Roads "a book of wonder, courage and magic." I'm not a sci fi/fantasy fan, but I might have to read this one! Published in 2003 (Warner Books/Grand Central Publishing) its genre is listed as "folk tale, historical novel" on one site, but as science fiction/fantasy on another. Publishers Weekly called it a "spiritual odyssey" when it came out in 2003.
I may have to use it as a comp (comparable title) for Cherry Bomb as I continue to query agents. Mostly I'm excited to discover another writer (and one who has one numerous awards) who included Mary of Egypt in her writing. I think we're after the same thing—showing the truth of the human heart. I wrote about this in a blog post over a year ago:
"Blending Historical Figures with Fictional Characters: Going After the Truth of the Human Heart"
Today's post replaces my usual Mental Health Monday post, because I'll be in Gulfport visiting my Goddaughter, Katherine Thames, and her family for a couple of days. I haven't visited them in 3 1/2 years, although I did see Katherine and Hardy at our daughter's wedding in 2011. It's supposed to be rainy, so I probably won't be walking on the beach or kayaking down a bayou on my Name Day, but I'll be so happy just to be hanging out with these folks I love so much. Katherine and Hardy have three wonderful kids who are 9, 11 and 14. It's their spring break, so I won't be surprised if some April-fooling goes on while I'm there….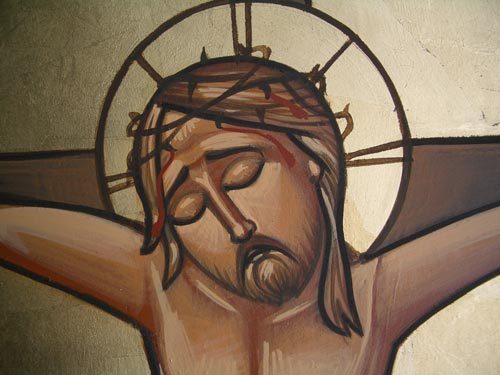 Today is Holy (or Good) Friday for Catholic and Protestant Christians. And yet it will be five more weeks until Orthodox Christians reach this point in our journey to Holy Pascha (Easter). It saddens me that the world's largest religion is divided in this most important of all religious holidays. (Read more about the Gregorian and Julian calendars and the reason for the two dates for Easter.)  But no matter which calendar you follow, please take a few minutes to consider Saint Paul's words to the church at Corinth.
"For the message of the cross is to them that are perishing foolishness; but to those who are being saved it is the power of God…. We speak the wisdom of God in a mystery, the hidden wisdom which God ordained before the ages for our glory, which none of the rulers of this age knew; for had they known, they would not have crucified the Lord of glory."—I Corinthians 1:18 and 2:7-8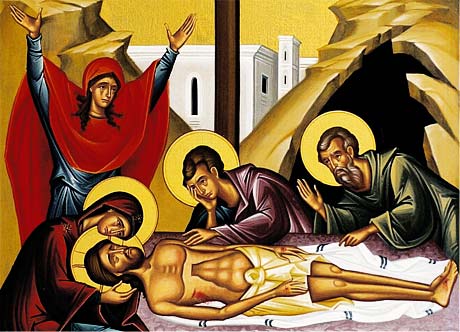 Today I join with my Catholic and Protestant friends as they commemorate Christ's crucifixion and burial. This morning I was blessed to spend a few minutes watching  Beliefnet's "Bitter Journey: The Way of the Cross." As I watched, I thought about one of the hymns we will sing on Holy Friday in the Orthodox Church, five weeks from today:
Today He who hung the earth upon the waters is hung upon the Cross. He who is King of the angels is arrayed in a crown of thorns. He who wraps the heavens in clouds is wrapped in the purple of mockery. He who in Jordan set Adam free receives blows upon His face. The Bridegroom of the Church is transfixed with nails. The Son of the Virgin is pierced with a spear. We venerate Thy Passion, O Christ. Show us also Thy glorious Resurrection.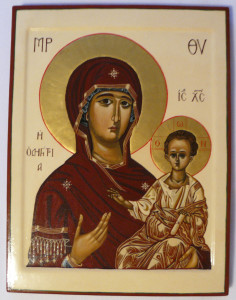 I will try to keep the Cross foremost in my mind as I join my fellow parishioners at St. John Orthodox Church in Memphis to pray the Akathist to the Mother of God tonight.  I can't imagine her suffering as she saw her Son on the Cross. Surely she knows how to comfort all who are suffering in this life. Listen to this beautiful hymn, To Thee the Champion Leader, which is Kontakion I (Hymn I) of the Akathist we will sing tonight:
To thee, the Champion Leader, we thy servants dedicate a feast of victory and of thanksgiving as ones rescued out of sufferings, O Theotokos: but as thou art one with might which is invincible, from all dangers that can be do thou deliver us, that we may cry to thee: Rejoice, O Unwedded Bride!
TITLES (and *Agents, sneaky, right?)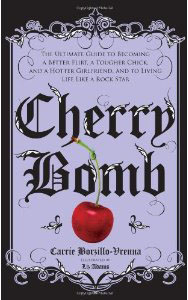 When I started writing Cherry Bomb, I Googled the title to be sure there wasn't a recent novel by the same name. I found another book, published in 2008: Cherry Bomb: The Ultimate Guide to Becoming a Better Flirt, a Tougher Chick, and a Hotter Girlfriend–and to Living Life Like a Rock Star. While this book has nothing in common with mine, I thought I could not (legally) use the same title, so I added a subtitle to mine: Cherry Bomb: A Novel. I didn't know it wasn't necessary until yesterday.
Yesterday I discovered that Jill McCorkle and Kate Atkinson are both releasing novels with the same title, Life After Life, in April. And for the first time, independent booksellers have declared a tie for their No. 1 Indie Next Pick, selecting BOTH Life After Life novels for April. No legal issues, and a surprising marketing boost for both authors.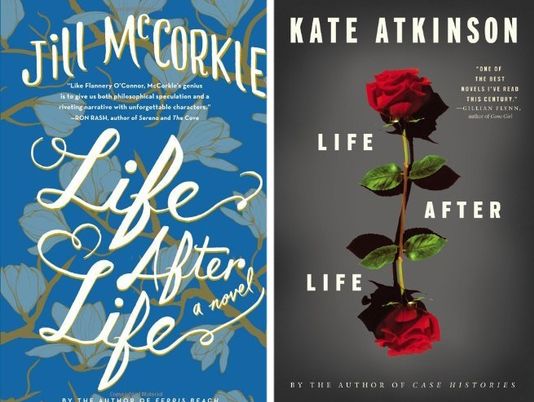 So maybe I won't need to add ":A Novel" at the end of my book title. Hopefully an *agent will guide me concerning this. I've now queried 65 agents for my novel, Cherry Bomb, and have 25 rejections. Several are still reading partials or fulls. I take encouragement, not only from fellow Jackson, Mississippi, native, Katherine Stockett, whose best-selling novel, The Help, was rejected by over 100 agents, but also by my friend Joshilyn Jackson, (another Southerner) who reminded me recently that she queried 160 agents for her first novel, gods in Alabama. Only one agent responded, and he has now sold five best-selling novels for Joshilyn. If you want to read an extremely entertaining blog, check out "Faster Than Kudzu."
NAMES
One of the three protags in my novel is based on Elaine de Kooning, an Abstract Expressionist painter who died in 1989. At first I changed her name to Emily Kaiser in the book, thinking I couldn't use a real person's name in a novel if I was going to fictionalize her life so much. But I spoke with an intellectual right attorney who said it would be fine, and using her real name would make the book more interesting to art lovers. Fast forward a year and a half, and one of the rejections I received from a literary agent recently included this comment:
I am uncomfortable with using Ms. de Kooning's real name in the novel.
I guess my novel doesn't clearly fit into the historical fiction genre. I don't know where it fits exactly… but again, I'm hoping an *agent will help me with that.
ORGANIZING MEMOIRS
My friend, Karissa Knox Sorrell, a precious young Nashville writer whom I met at the Southern Festival of Books this past October, has a terrific blog. She's almost finished drafting a memoir, and her post yesterday was all about how to organize the story–chronologically or thematically? We're both converts to the Orthodox Church, and I can't wait to read her memoir, which is about her spiritual journey. Check out her post if you're interested in how a book comes together. I'm sure we'll be seeing it in print one day.
So, after my post on Monday–in which I whined a bit about no one ever calling me–a friend and fellow Memphis writer who read the post emailed me with an encouraging inspirational quote, and then invited me to lunch today. I really wasn't trying to drum up sympathy, but I'm looking forward to spending time with this wonderful woman. Emma and I both lived in Jackson, Mississippi, for 37 years, but not the same years. We met a few years ago when she took one of my icon workshops. Since then, we've been together at several writing workshops, and I've dropped in on the dream work group she leads at St. John Episcopal Church here in Memphis. Last fall, Emma invited me to give a reading from Circling Faith: Southern Women on Spirituality, for her Sunday School class at St. John, and a brief talk on writing essays and memoir. My spirits are already lifted this morning, just thinking about having lunch with Emma. (The picture is from an evening two years ago when Emma and I had dinner with Nashville author, River Jordan, following River's reading at Davis-Kidd Books.)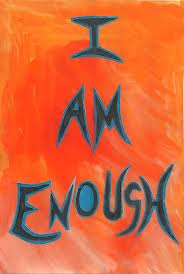 Today I'm continuing to read and share nuggets from Brené Brown's book, Daring Greatly. You can read my first four posts about her book at these links, if you haven't been following my blog and want to catch up on her particular brand of mental health wisdom:
Daring Greatly (February 4)
Surviving the Arena (February 11)
Shame On You (March 4)
Picture Memories and Foreboding Joy (March 11)
The title of today's post comes from Brown's continuing discussion about what she calls our worthiness:

Our worthiness, that core belief that we are enough, comes only when we live inside our story. We either own our stories (even the messy ones) or we stand outside of them—denying our vulnerabilities and imperfections, orphaning the parts of us that don't fit in with who/what we think we're supposed to be, and hustling for other people's approval of our worthiness. Perfectionism is exhausting because hustling is exhausting. It's a never-ending performance.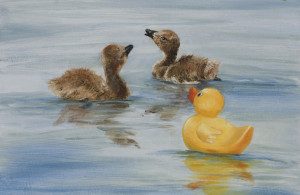 When I was in school—especially high school—I could never find a "clique" to fit into. I was friends with girls from various groups, primarily because I was an over-achiever, involving myself in the school newspaper (feature writer, advertising manager, business manager), theater guild (acting), advanced art classes (we did the scenery for the school drama and musical productions) and student council (secretary). But all those activities and achievements were, as Brown says, hollow substitutes for what I really longed for—belonging.

Belonging is the innate human desire to be part of something larger than us. Because this yearning is so primal, we often try to acquire it by fitting in and by seeking approval, which are not only hollow substitutes for belonging, but often barriers to it. Because true belonging only happens when we present our authentic, imperfect selves to the world, our sense of belonging can never be greater than our level of self-acceptance.
Lacking that self-acceptance as a child—possibly due to the sexual abuse I experienced from my grandfather and the ongoing verbal abuse from my mother—I carried the wound into high school and on to college and adulthood. At Ole Miss, I pledged what I considered to be the top sorority (Delta Delta Delta) and was elected president of the pledge class. But I still felt like an outsider when I watched the friendships others in the sorority had with each other—a level of intimacy I didn't seem to be able to find. I got engaged in the fall of that freshman year and married the following June, which took me out of one arena and dropped me into another.

Many years later, I found myself still hustling for approval—from my husband, my church, maybe even from God. I continued to busy myself with activities—church secretary, newsletter editor, Sunday School teacher, Christmas play writer and director, Coffee Hour chairman and joiner of endless committees. I learned to write (paint) icons and led workshops and gave lectures on iconography. Interactions with my students was satisfying, but those relationships never seemed to gain intimacy outside the classroom. I eventually retired from iconography and from all the activities I had been involved in at church. A dark cloud of loneliness enveloped me as I realized that I was once again, on the outside looking in.

Where do I go from here? Brown addresses my question:
Living a connected life ultimately is about setting boundaries, spending less time and energy hustling and winning over people who don't matter, and seeing the value of working on cultivating connection with family and close friends.
I've already done the boundary-setting part, although I'm sure I've got more to learn about that. And I'm working on the connection with family and close friends. I only have two friends who call me. Well, maybe three. Over the years I've gotten weary from always being the one who initiates—coffee, lunch, dinner, going to an art show or shopping. So I've gradually slowed down the invitations, hoping my phone would ring. It rarely does, and I can't help but see that as a reflection of my un-worthiness. When I feel that pain, it's tempting to turn to what Jennifer Louden calls "shadow comforts" (Brown quotes Loudon in her book.) Brown says this about those shadow comforts:
When we're anxious, disconnected, vulnerable, alone, and feeling helpless, the booze and food and work and endless hours online feel like comfort, but in reality they're only casting their long shadows over our lives.

Over the past couple of months, I've been working on rejecting those shadow comforts and focusing on relationships in my family. Our 35-year-old son, Jonathan, has been living with us since January, for the first time in seventeen years. A retired  Army helicopter pilot, Jon is job-hunting, trying to rent out his historic, Victorian home in Savannah, and wants to relocate to Memphis. I know it's hard for him to accept our hospitality at this stage in his life, and it's sometimes hard for us to share our empty-nester space, but there are continuing blessings from this arrangement.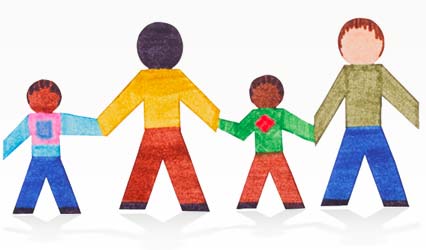 Our other two grown children and three grandchildren all live in Denver. I've made three trips to Denver in the past six months, and my daughter and her family have been here once and will return again in April. All ten of us will spend a week together in a house on the beach at Seagrove in May. As I'm sure is true in most families, our relationships haven't been without struggles. But today I am so thankful for the love and connections that are growing stronger.

I struggle every day against regrets, often wanting a "do-over" in many areas of my life. But I'm working on self-acceptance and trying to live in the present moment.
Whether or not you like country music, listen to Zach Brown's song, "Make This Day," and you'll feel better about yourself. I don't think Zach and Brené are related, but I do think Zach gets what she's saying here about living inside our stories. Listen to the chorus:

Find a way to wash away
(Way to wash away)
Any regrets you have
Don't let this moment pass but live inside this day.

Happy Monday, everyone. Let's make this day a little better than the last!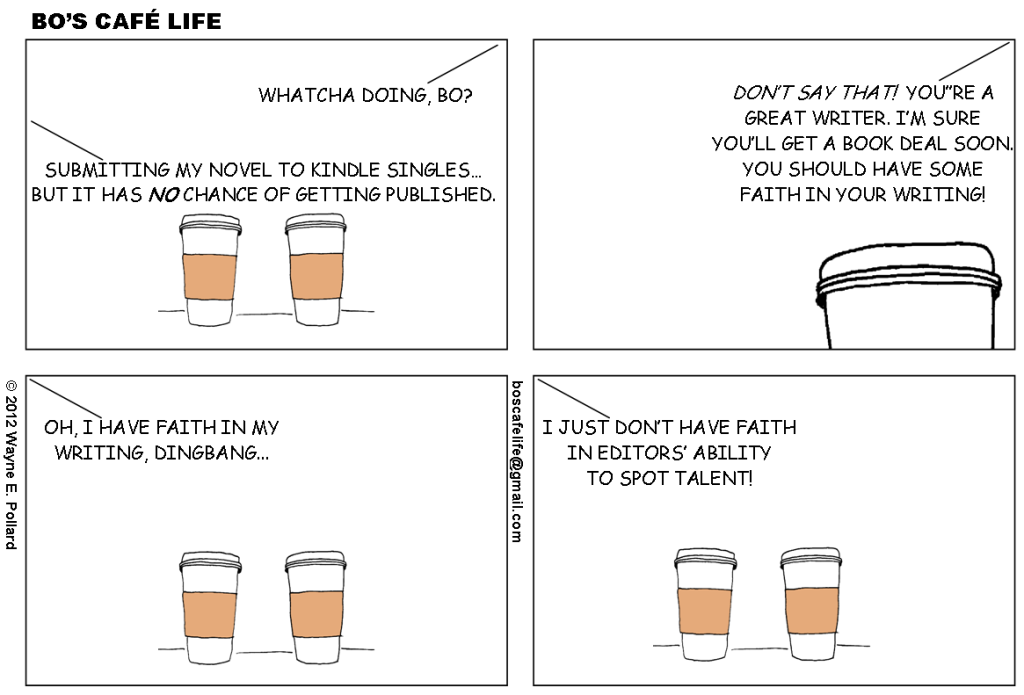 It's been five months since I began seeking representation for my novel, Cherry Bomb. As of today, I've queried 68 agents, and I've received 24 rejections. A few of the remaining 44 agencies are still reading partial or full manuscripts (which they requested) but most others I just never heard back from. Some of the rejections are flattering and encouraging. Others are short and not so sweet, like these two recent ones:
"As much as the subjects interest me I'm just not connecting with the story as much as I'd need to in order to take it on."

"While this sounds like a strong project, I'm afraid it doesn't strike me as a likely fit with me and my particular editorial contacts."
As a spiritual person, I sometimes—not always—ask God's blessing on my work, my writing. And during this process of trying to get my novel published, I have asked His help from time to time. But issues of faith aren't clear-cut to me where my writing is concerned. It's not like I'm writing devotionals or inspirational books intended to draw people closer to God. I'm writing fairly gritty literary fiction (novels) and personal memoir (essays). My goal is to create art that reveals truth. But then again, can't a person ask God's blessing no matter what her line of work? There's nothing innately spiritual about what a plumber or a salesman or an architect does, but they can still ask God's help. After all, we are whole people, who have physical, spiritual, and emotional components.
I just read another essay in A Syllable of Water: Twenty Writers of Faith Reflect on Their Art. This one, "A Twitch Upon the Thread," is by Emilie Griffin, author of over a dozen books and numerous essays. Griffin says:
Writing is an act of faith. The faith is in the wanting, the yearning, the desire. It Is desire that drives us to spin and weave—out of words, out of sentences—some fabric of meaning, a picture that clarifies, something that sheds light, makes sense out of confusion or even warms the heart. Such yearning is an aspect of faith…. I think we writers must suspend disbelief in ourselves. Instead, we put faith in our own powers, our gifts, our call to write.
I don't know if I'm "called" to write or not, but I know that it's something I must do.  And like Zach Brown says, "Every one of us require to keep picking through our souls."
Griffin continues:
To express our faith, we dig deep for understanding. Sometimes we cry out in anger against the offenses that should not be…. We question God, we challenge the things in creation we don't fully understand. But also we observe, we take delight, we remember, we celebrate, and we praise.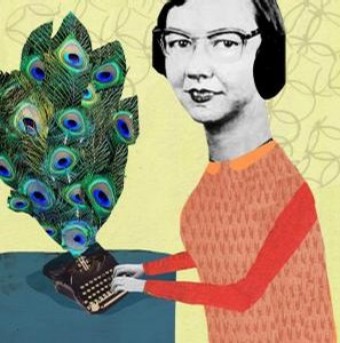 So, if Griffin got it right, my yearning to create art that reveals truth is an aspect of faith. And maybe not only faith in God, but faith in myself. As Flannery O'Connor said, "I write because I write well."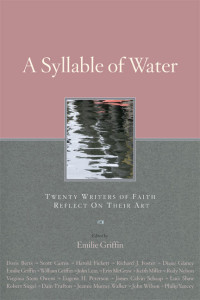 Last summer I discovered a wonderful book of essays on writing: A Syllable of Water: Twenty Writers of Faith Reflect on Their Art. My friend, the Orthodox poet and writer, Scott Cairns, has a wonderful essay on poetry in the book. I did a post about one of the essays, "The Snarl and Gnarl of Revision," last July.  And another post that same month about Doris Betts' essay, "The Novel Taking Form,"—"How We Use Our Words: Christian is Not an Adjective." Today I'll share a few gleanings from Rudy Nelson's chapter, "Getting It Right: On Research."
Rudy and Shirley Nelson are writing partners who identify themselves as "storytellers," saying:
The core of any of our work has always been story, though the context might be history or biography or journalism, and the medium print or film. But storytelling has not excused us from the necessity of research, even when fiction itself has been the focus.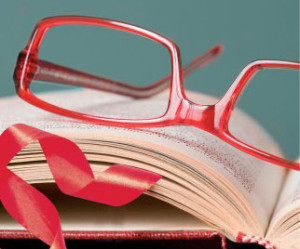 And that's where I find myself today, over half way through my second month of work on a new novel, The Secret Book Club. Several folks asked me how many words I wrote during my month-long writing retreat at Seagrove Beach in February. I refused to answer, because I don't think the word count is a reflection of the amount of work going into the book, especially this early in its genesis. Much of my time was (and still is) spent on research. It's going to be a slow process for this particular project, because I want to accurately capture the culture of the setting—a cult-like group of people living in the 1970s South. And as Nelson says of their work, "Actually we've never begun any project in a vacuum," neither have I. My first novel, Cherry Bomb, contains many elements of my own life. The Secret Book Club will be an even more reflective novel. But that doesn't mean that much research isn't required, as Nelson continues:
However valuable personal experience may be as a head start, it has always quickly led us into unexplored locations. And that's the safest place to be. For research to be done from the right perspective, it's best to consider yourself a blank tablet.
Nelson talks about the mixed blessing that Google brings to a writer's research:
As one Google entry leads to another and another and yet another, one has to decide when the search has gotten out of hand…. How far back should we go? Or, depending on the subject, how far in? …. So when should research stop and writing begin?
I've only read three books in my (growing) stack of books to read for this novel. I'm a slow reader, so that's actually a lot of reading for me during a six-week period. Especially since I take notes as I read. And I've drafted two chapters of my novel as I've been reading. I think the work will continue this way—the reading and writing finding a rhythm together. Nelson approves:
Those two parts of the creative process should walk hand in hand from start to finish…. Robert Stone, whose novel A Flag For Sunrise captures the insidious threat of violence in Central American during the 1970s, says that a novelist must assume, above all, "the responsibility to understand. The novel that admits to a political dimension requires a knowledge… intuitive or empirical, of the situation that is its subject."
Much of the knowledge I bring to my work-in-progress is intuitive. I wouldn't approach a subject which hadn't touched my life in some way, at least not for a novel. Unlike the journalist who writes about assignments that may or may not have anything to do with her own life, the novelist can choose—and I make that choice—to "write what you know."
Nelson quotes Barbara Kingsolver as saying:
Write a nonfiction book, and be prepared for the legion of readers who are going to doubt your facts. But write a novel, and get ready for the world to assume that every word is true." The implication, of course, is that in fiction not every word is "true." In the imagined world the novelist has created, versimilitude—the literal factual equivalency of that imagined world to the external world of our daily lives—is often in short supply…. Fiction explores a far deeper and more important level of truth than versimilitude can touch.
And so, novelists often do must as much research as nonfiction authors. And we do it, as Nelson says, in order to "represent the true breadth of that culture accurately."

The characters in The Secret Book Club are fictional. I am fabricating their lives, but I am using patterns and materials that were common in the South of the 1970s—especially the books that the women read and discuss together. They are NOT the books that my friends and I were reading back then, because we didn't have a secret book club. But if we had…. well, the books I've read so far are:
The Easter Parade by Richard Yates

The Optimist's Daughter by Eudora Welty

The Women's Room by Marilyn French
Next up? (Haven't decided the order of these four yet):
Fear of Flying by Erica Jong

The Stepford Wives by Ira Levin

I'm OK—You're OK by Thomas Harris, M.D.

Jonathan Livingston Seagull by Richard Bach
Lots of reading, but as a novelist, I have the responsibility to understand the culture I'm writing about. So here I go… to the books.
While Western Christians are less than two weeks away from celebrating Easter, Orthodox Christians all over the world are just beginning their Lenten journey today—on Clean Monday. I made it to Forgiveness Vespers last year, but not last night. It's complicated. But my reluctance to jump into Great Lent wholeheartedly has something to do with longing for a life that isn't so… heavy.  That may surprise those of you who know me well enough to know that I'm all about intensity and embracing the dark side of life. But when it comes to God and Orthodox spirituality, I struggle with the heaviness of the season, at least the way it often comes across in parts of the Orthodox world.
If you're tired of reading my rants about fasting, you can just skip the rest of today's post, because I'm going to do it again. But don't worry, it's going to be a much lighter rant than in the past.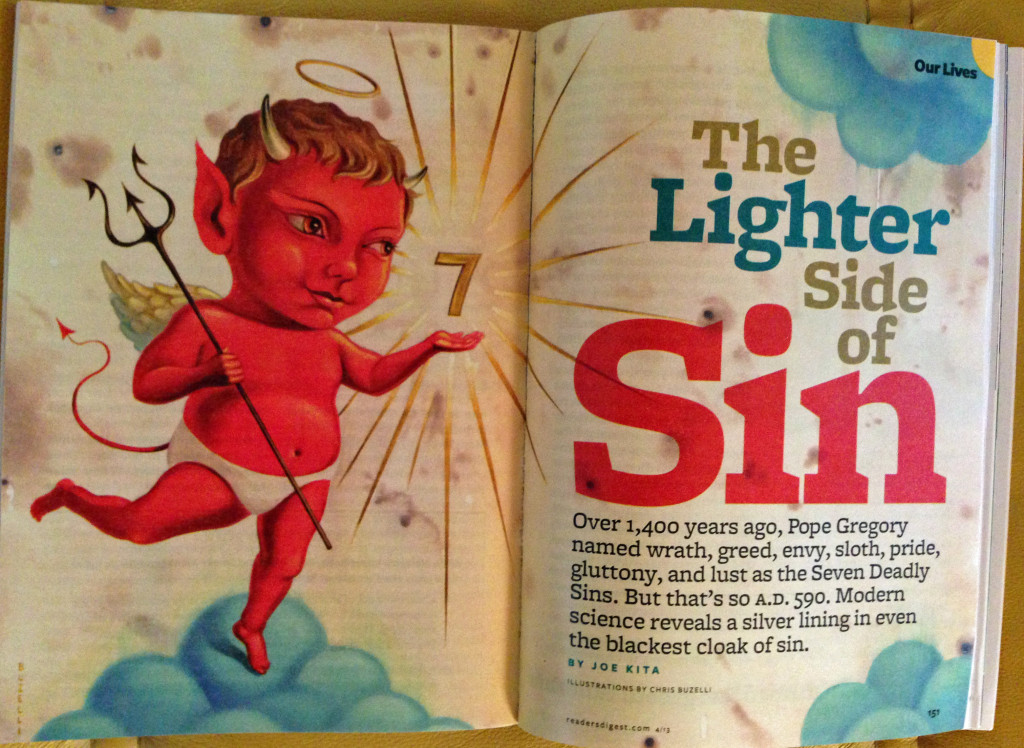 With excerpts from a surprising (and completely secular) source: the April issue of Reader's Digest. Joe Kita has a piece in the "Our Lives" column called, "The Lighter Side of Sin." He breaks down the seven deadly sins—wrath, greed, envy, sloth, pride, gluttony and lust—giving each of them a slightly scientific spin and revealing their lighter sides.
Here's a taste: (Some are quoted, others are paraphrased.)
Wrath—The chronic suppression of anger can cause high blood pressure, heart disease, depression, and sleep disorders, studies show. … If you're married, a little bit of wrath might even save your life. A report from the University of Michigan determined that couples who regularly got problems off their chests lived longer than those who internalized them.

Greed—Materialistic greed can have positive effects. Research shows that when you're pursuing and acquiring what you desire, you feel great. This has the potential to benefit not only you personally, in the form of happiness and health, but also those around you, including family, friends, and depending on your business, shareholders and society…. It's basic human nature to feel greed. Whether it's a sin depends on the limits we place on it.

Envy—Dutch researchers recently determined that benign envy, which lacks the venom of its poisonous big sister, (malicious envy) motivates us to improve.


Sloth—Richard Wiseman, a British psychologist who measures pedestrian walking speeds around the world, says the human race has sped up ten percent since the 1990s. But where is all this hurrying getting us? Taking it slow may have benefits, like weight loss. Adults sleeping five or fewer hours per night have a 55 percent greater chance of being obese.


Pride—Although pride is regarded by some as the original deadly sin, achievement-oriented pride creates feelings of optimism and worthiness. It is motivational, resulting in greater perseverance and personal development. It can even change physical appearance, prompting more smiles and better posture.

Gluttony—Thirty-six percent of American adults are obese, so it seems there could be no upside to gluttony. But scientists at Tel Aviv University discovered that adding a little dessert to an otherwise balanced breakfast facilitates weight loss. A cookie at breakfast or an occasional cheat meal can keep you from going elbow-deep into a bag of chips before bedtime. (He explains this better in the article, but I do think this was the weakest of his 7 arguments.)

Lust—Research at the University of Amsterdam (why does the location not surprise me?) shows that lust helped study subjects focus better on the present and its details. Kita admits that lust for sex can certainly be destructive, but a lust for life is virtuous. Like all the Seven Sins, what determines whether it's deadly is a simple matter of whether we control it or it controls us.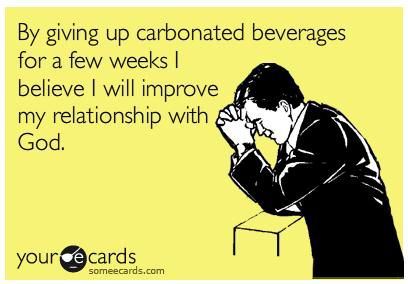 I think Kita nailed it on the head with that final sentence. The Lenten Fast (and all of the spiritual lifestyle promoted by the Orthodox faith) aims at control—our control over our flesh, rather than the other way around. I do get that. It's not the goal I take issue with—it's the method. The rules and regulations just don't help me draw closer to God. I know some Orthodox Christians who are greatly helped by the same regimen that undoes me, so my thoughts are just that—mine.
And the results of Kita's lighter approach to the seven deadly sins might not even be things that you consider "good" goals for Christians—longer life, health, happiness, improved marriage, weight loss, perseverance, good posture, personal development, material success—but I appreciated his thoughts.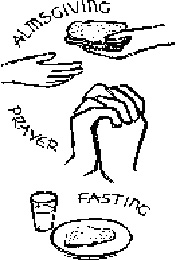 What I do like about the Orthodox approach to Lent is how fasting is only one third of a three-pronged "stool" that, as our pastor said yesterday, won't hold up without all three legs. I embrace (anonymous) almsgiving and I try to pray (in secret) but it's the fasting that keeps tripping me up.
If you're in the throes of a serious ascetic struggle, please don't take offense at the lighter approach I've introduced here. But if, like me, you struggle with the heavy cross of self denial in the seemingly legalistic form of which foods not to eat on which days (and the endless "fake foods" and recipes to make fasting taste good) I hope you can take this post in the spirit in which it's shared, and find the lighter side of Lent. And please forgive me.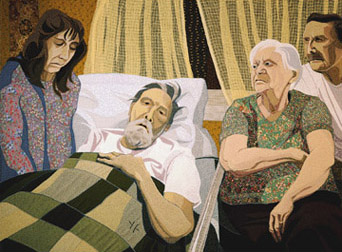 My dear friend (and Goddaughter) Sue lost her mother on Tuesday. She lived out her final years in a nursing home. Sue visited her almost daily for most of those years. She was a devoted and loving daughter, and she misses her mother greatly. Yesterday we had lunch together, and I found myself more comforted by Sue's words than by my own meager efforts at comforting her. Sue is a woman of faith.
I thought about Sue and her mother as I read an article by Father Josiah Trenham, pastor of St. Andrew Orthodox Church in Riverside, California, in the December 2012 issue of The Word magazine. The article, "Getting Old in a Spiritual Way: Embracing God's Will in Aging," was Fr. Josiah's second lecture in a series in which he examines this phrase which Orthodox Christians pray routinely, asking God for "a Christian ending to our lives." There's much good to be gleaned from the article (and the entire series) but in the light of Sue's mother's death, I was most struck by his words in the section on "Caring for the Sick and Dying":
A significant part of aging is mourning well and sending off your loved ones ahead of you to the kingdom! Looking to the future with hope. Grieving in prayer with God. Nourishing friendship to the end. It is an eternal investment. Love is stronger than death…. It is an honor to co-labor with them in the last and great work of their life, and to fight alongside them in the final battle of the great war which their life has been, a battle that surely leads to final and everlasting victory in Christ.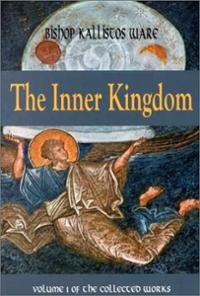 Surely. Fr. Josiah writes with much certainty. Like Sue, he is a person of faith.  I wish I had their certainty. People who express a strong faith seem to walk through life with lighter steps. They leave a softer footprint. I seem to always be stomping on the earth with my whining and fussing, like a spoiled, chubby child trying to get his way at the candy counter. Oh, sure, I have seasons of faith—times of contentment, maybe even joy. But it seems that the dark nights of the soul outnumber those times in my life. Searching for answers—or maybe just for a glimmer of hope—I ran across these words from Metropolitan Kallistos Ware:
Almost as traumatic as the death of a friend or partner can be, for many believers, the death of faith—the loss of our root certainties (or seeming certainties) about God and the meaning of existence. But this too is a life-death experience through which we pass if our faith is to become mature. True faith is a constant dialogue with doubt, for God is incomparably greater than all our preconceptions about Him; our mental concepts are idols that need to be shattered. So as to be fully alive, our faith needs continually to die. (The Inner Kingdom, St. Vladimir's Seminary Press, 2000)
I want to believe that God is, as Metropolitan Kallistos says, "incomparably greater than all our preconceptions about Him." I am contemplating his statement that "our mental concepts are idols that need to be shattered." There is so much about my spiritual journey that I am questioning at this point in my life. But if I understand Metropolitan Kallistos correctly, it's okay if my faith dies. It's even a necessity, if I am going to be "fully alive."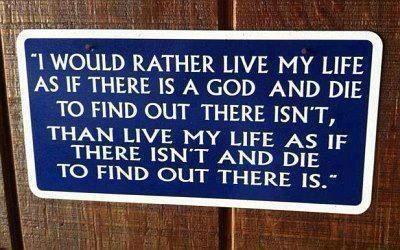 Returning to Anne Lamott's book, Help, Thanks, Wow, I read her final chapter this morning. It's called, "Amen." I love what she says about us—the people who are praying and saying, "Amen" at the end of our prayers:
It is us, the damaged, hopeless people, lifting up our hope, hate, gratitude, fear, and shame, saying, Boy, do we hope we are right about this God stuff.
I love that she says we not only lift up our hope and gratitude to God, but also our hate, fear and shame. And I would add to that list, doubt. And anger. Today I lift up my doubt and anger to God, along with my hope and gratitude. And I will try to pray more. Not just because Great Lent begins next Monday (for Orthodox Christians) but also because, as Lamott says (of prayer):
It brings me back to my heart, from the treacherous swamp of my mind…. So it is, when we do the best we can, and we leave the results in God's good hands. Amen

I think maybe prayer can help shatter those idols. I am going to try.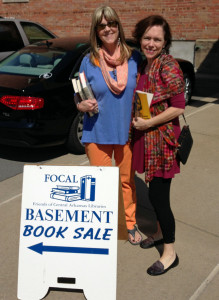 During my wonderful "birthday weekend" in Little Rock, one of my favorite outings was my visit to the Little Rock library's annual book sale. I went with my friend, Daphne, and her 16-year-old son, Simon. As we entered the bowels of the building, we split up and explored the various shelves and tables. Having recently purchased about 6 books at Sundog Books in Seaside, Florida, I really wasn't planning on buying anything. Right.
But I did, indeed, find treasures—four books for a grand total of $3.50. And all four of them I could "justify" as legitimate research for my current work-in-progress, The Secret Book Club. Well, at least three of them. Especially this wonderful little volume of interviews with women writers, Women Writers Talking, edited by Janet Todd. My joy at finding this book (for 50 cents) was that two of the women interviewed are Erica Jong and Marilyn French—both authors whose books are chosen by the women in the 1970s book club that I'm creating.

I'm about half way through reading French's novel, The Women's Room, so I read her interview first. Several things caught my interest. First of all, one of the strengths of The Women's Room, in my opinion, is how she reveals the universality of women's feelings about the social mores of the 1950s,'60s and '70s. In the interview she gave with Janet Todd, she explains why that was so important:
We live in a culture in which emotion is really looked down on…. If a work of art deals with human emotion as we feel it… it's going to be called sentimental…. I have a serious respect for emotion.
Talking about her novel, The Women's Room, French said:
I do think emotion is more accessible to women than men. They're more aware of it. When men start to feel something, they immediately turn on the TV set and watch a ball game, go out and argue at a political meeting, get rid of their emotions there so they don't have to be aware they have them. I don't think men are less emotional than women. I think they're simply less aware of their emotion, and, when it does come out, it comes out in a very childish way—fourteen-year-old temper tantrums, or five-year-old jealousies.  I think women are terribly emotional. Emotion is as much a part of one's self as mind or body.
Amen. One of my struggles with the Orthodox faith which I converted to in the 1980s is the Church's approach to emotion. And passion. The Church fathers encourage dispassion, and tend to have a low regard for emotions. And while I won't go as far as French is saying that "the men of our age are all so hollow and mechanical, emotional zombies," I do share her frustration with their inaccessibility at times.
French was criticized for being too polemical, and also for overuse of extraneous details, which caused her characters to become exemplars rather than living people. She refuted both criticisms in the interview, and I love both responses:
To the first she replied,
I don't think the detail is ever extraneous…. I think that is how you create the texture of the day, a life, or an event. I don't think you do it by describing it in large historical terms. It seems to me that is the very technique of poetry.
Create the texture of the day. Virginia Woolf immediately comes to mind. And Michael Cunningham. And in a different way, Pat Conroy. My favorite writers are masters at creating texture.
To the second criticism, about being too polemic, she replied:
When you're working against a current, against the very basic assumptions of the culture, if you don't get polemical, if you don't say what you have to say, no one is going to hear you.
I feel my courage rising as I read these words and continue reading French's iconic novel. I'll share one more excerpt from the interview—one that surprised me:
The one writer who means more to me than any other writer—and always has from the very first time I ever wrote a book a lot of years ago—was Dostoevsky. I recently reread The Brothers Karamazov and found he was writing on the other side of the same question I'm writing about. He's talking about patriarchy, he's talking about what does God mean and if a thing called God exists, why. And that huge district attorney's summing-up of the case against Mitya is essentially a defense of a primal being which is masculine, narrow-minded, insists on certain sexual and moral codes, and so forth. I never though of that as polemical.
Marilyn French and Dostoevsky—two sides to the same question. Fascinating.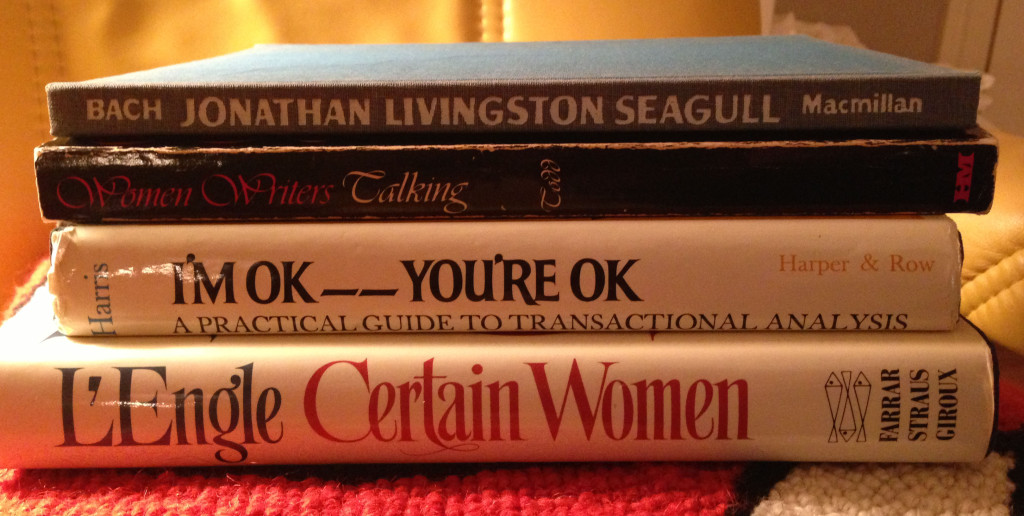 So, as Daphne, Simon and I returned home from the library with our treasures, we spread them out on the coffee table and discussed our choices. Simon chose some wonderful classics from Shakespeare and some excellent volumes of poetry. Daphne scooped up some beautiful picture books for her nieces and nephews. In addition to the volume of interviews with women writers, I came away with Richard Bach's  Jonathan Livingston Seagull (complete with beautiful black and white photographic images), I'm OK—You're OK (Thomas Harris' guide to transactional analysis), and Madeleine L'Engle's 1992 novel, Certain Women. Daphne asked us to describe our experience when we walked into the basement of the library and saw all those books. (A typical Daphne question, God love her.) What were we thinking or feeling?
Simon: I'm gonna get some books.

Susan: It's musty down here. I wonder if there's mold on the books. How long can I stay down here? (I'm claustrophobic and a bit OCD.) But then I got lost in the treasures and forgot my fears.
What I would have been thinking, had I already read Marilyn French's interview, was how many hundreds of writers labored endlessly to create those books, and especially about the brilliance of the ones who knew how to create the texture of a day. A life. An event.
This morning I continued my reading in Brené Brown's book, Daring Greatly. I read chapter 4: "The Vulnerability Armory." She writes about the masks we wear to protect ourselves from pain. And specifically about what she calls three "vulnerability shields":

Foreboding Joy

Perfectionism

Numbing
Perfectionism and numbing have been in my stockpile of masks for most of my life. Well, perfectionism has always been there—even in childhood—but I guess the numbing is something I learned as an adult, when I had the autonomy to make unhealthy choices about food and drink and other things I could use to numb the pain. But this thing Brown calls "foreboding joy" was a new concept for me. She describes it several ways, but I like this definition:
 In a culture of deep scarcity—of never feeling safe, certain and sure enough—joy can feel like a setup…. We're always waiting for the other shoe to drop.
This fear cripples us and keeps us from enjoying the moment—the ordinary moments—that are right in front of us. She tells the story of being with her first grade daughter on a paddleboat, feeding ducks in the park:
At one point … I realized that she had stopped pedaling and was sitting perfectly still in her seat. Her hands were wrapped around the bread sack, her head was tilted back, and her eyes were closed. The sun was shining on her uplifted face and she had a quiet smile on her face. I was so struck by her beauty and her vulnerability that I could barely catch my breath. I watched for a full minute, but when she didn't move, I got a little nervous. "Ellie? Is everything okay, sweetie?"

Her smile widened and she opened her eyes. She looked at me and said, "I'm fine, Mama. I was just making a picture memory…. It's a picture I take in my mind when I'm really, really happy. I close my eyes and take a picture so when I'm feeling sad or scared or lonely, I can look at my picture memories."
As I read this, I realize that I've been doing this for years with my camera and my writing—making picture and word memories. But sometimes—when I'm especially mindful—I also do this without those props. That's what happened Saturday afternoon when I was at a lovely outdoor mall with my friend, Daphne, in Little Rock. We had just eaten lunch at Local Lime, where I had the best ahi tuna cheviche and the freshest salsa and homemade chips I had ever tasted, so my tummy was already making picture memories. After a lot of rainy days, the sun was shining and it was gorgeous. Daphne headed into a nearby shop while I sat on a bench with my eyes closed, soaking up the sunshine. I was missing the beach, but I decided to enjoy the sunshine right there in Arkansas, and the memories of all the fun I was having on my birthday weekend. When I opened my eyes, a little girl about four years old was lying on her stomach with her face propped up in her hands, staring at me, smiling. Her hair was glowing in the sunshine, and I found myself saying, "I love your hair!"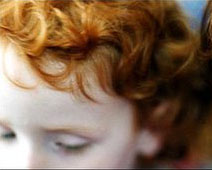 "It's red." That's all she said. Her mother—also a red-haired beauty—was standing nearby and laughed as her daughter hopped off the bench and danced around in the sunshine. We chatted briefly, and then they were off on their errands, and I was left alone on the bench with the sun on my face and the memory in my heart. When Daphne returned and we walked arm-in-arm in and out of several shops that afternoon, the memory of the sun on my face, and the red-haired mother and daughter brought me even more joy than the new shoes and jeans I found.
I know that rainy days will always come again—physically and metaphorically. I was stuck in construction traffic for 45 minutes on my drive home from Little Rock last night, with rain compounding the trip near the end. And clouds are still gathering here in Memphis today. But my heart is full of picture memories from a wonderful weekend, sunshine on my face, and a precious little red-haired girl.