For previous posts on the contributors, see these authors who were all featured in the first section of the book, "Mystics and Messengers."
And from the second section of the book, "Angels Watching Over Me."
Next up?
I love how Mandy and I are "flipping the script" with her essay being included in this anthology. In 2021 I had an essay in her anthology, Work in Progress. And before that, we each wrote blurbs for each other's short story collections. In fact, it was Mandy who recommended that I turn my short story about "John and Mary Margaret" from my collection Friends of the Library into a novel by the same name, which I did in 2021. I love the way our paths keep crossing. Here's her bio from the back of the book: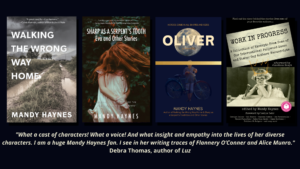 Mandy Haynes has spent hours on barstools and riding in vans listening to outrageous tales from some of the best songwriters and storytellers in Nashville, Tennessee. She traded a stressful career as a pediatric cardiac sonographer for the life of a beach bum wordsmith and now lives on Amelia Island with her three dogs, one turtle, and a grateful liver. She is a contributing writer for Amelia Islander Magazine, editor of Well Read Magazine, and author of Walking the Wrong Way Home, which was a finalist for the Tartt Fiction Award, and Sharp as a Serpent's Tooth: Eva and Other Stories. Her latest book is a novella titled Oliver.
"Rose's Angel"
Mandy changed the names for this true story from her time working as a pediatric cardiac sonographer at Monroe Carell Jr. Children's Hospital at Vanderbilt in Nashville, Tennessee. This story is especially dear to my heart because my husband and I adopted three children in the 1970s and '80s. I never considered whether any angels were involved in the long, drawn-out processes of adopting those precious children (who are now 40, 41, and 45). Here's a short excerpt/teaser from Mandy's essay, which is about a young girl named "Rose," was born with a heart defect and was adopted by a young newlywed couple, David and Sharon. But how did David and Sharon know about Rose? She began telling the story to Mandy, who was finishing her echocardiogram.
Rose asked me how her left ventricular function was doing. "Do you like stories?" Rose asked after I answered her question.

"I love stories."

"Do you like angels?"

"Yes, I do. I especially love stories about angels," I said.

"I knew it! Daddy! Tell her about my angel!"

Her daddy grinned and shook his head, "Let her work Doodlebug, She probably needs to concentrate and you ain't making it easy."

Rose and I both said, "Please tell the story!"

"Anyway, I'm almost finished thanks to Rose's help," I winked at her.

"Daddy," Rose crossed her ankles and put her hands behind her head, "Tell her the story—and start before y'all got the phone call."

This is the story her daddy, his name is David, told me. . . .
How's that for a teaser? Now you'll have to get the book to read the rest of Rose's story!