For previous posts on the contributors, see these authors who were all featured in the first section of the book, "Mystics and Messengers."
And from the second section of the book, "Angels Watching Over Me."
Next up?
Beginning the third section of the book, "All in the Family: Mothers, Fathers, Sisters, and Grandfathers."
I remember the first time I met Wendy in November of 2008 in Fairhope, Alabama, at the last (I think) annual event, "Southern Writers Reading." Wendy was there with her good friend Jennifer Horne (also a contributor to this book, so I may write this same introduction for her!) and the two of them co-edited a wonderful anthology, All Out of Faith: Southern Women on Spirituality, in 2006. I LOVED that collection, and when I found out they were working on a "sequel," I asked if I could submit an essay. Most of the authors in their anthologies were published, well-known, and many best sellers. But they took a chance on me, and my first essay to be published in an anthology, "Chiaroscuro: Shimmer and Shadow," was included in their next book, Circling Faith: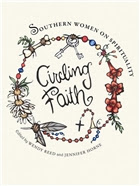 Southern Women on Spirituality (2012). What followed was an 11-year-and-still-going friendship with both of these amazing women. Their essays have appeared in several of my anthologies, and they have both graciously blurbed several of my books. But here's a bit more about Wendy:
Wendy Reed is an Emmy-winning writer and producer, whose work includes documentaries and the long-running series Bookmark with Don Noble and Discovering Alabama. The author of An Accidental Memoir: How I Killed Someone and Other Stories, she teaches science-writing seminars for honor College students. She is a State Council on the Arts fellow and has been recognized by Oregon State University, the Lillian E. Smith Center, the Seaside Institute, and Lincoln University for her work. She is currently completing a Masters in Public Health from the University of Alabama at Birmingham.This quote from Wendy's piece appears as an epigraph at the beginning of the third section of the anthology:
"A religious person . . . may find the supernatural they seek in the story of my grandfather's death. An atheist might see a sweet older widower, heavily medicated, talking in his sleep."
And now for an excerpt/teaser:
"The Day of the Dead"
When Granddaddy died, I was making a documentary about apprentice morticians. I'd obtained legal permission from the funeral director program at the local community college; signed on interesting-sounding and willing students—Jackie Brown and Jody Foster; scheduled remotes on Colma, California, the City of the Dead (a necropolis with one thousand times more dead than living) and in Las Vegas, City of Conventions, including the Expo for the International Association of Funeral Director. I'd also rewritten yet again my script outline, which included the process, beginning in the classroom and ending with a funeral. I'd even secured local funeral homes as locations for shoots.

But one dilemma remained: I needed a body.

Until you've approached complete strangers—grief-stricken and in casket-choice limbo—and asked to use their deceased loved one in a film, you have not seen incredulous. I explained to them that I only needed a few close ups. That the face wouldn't be seen. No identifying marks would show. They mostly stared. I tried begging. I tried bribing. I even offered to let them be in the show. They found words: "Are you out of your mind?"
Wendy always tends to take us to the edge with her writing, and "The Day of the Dead" does not disappoint. And yes, you'll have to get the book to read the rest of the story!