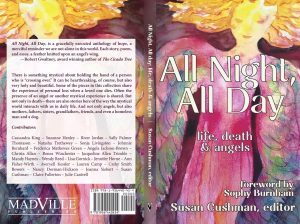 For previous posts on the contributors, see these authors who were all featured in the first section of the book, "Mystics and Messengers."
And from the second section of the book, "Angels Watching Over Me."
From the third section of the book, "All in the Family: Mothers, Fathers, Sisters, and Grandfathers."
Next up?
Joanna Seibert
The Rev. Joanna Seibert, M.D. is an emeritus professor of radiology and pediatrics at Arkansas Children's Hospital and the University of Arkansas Medical Sciences and has been an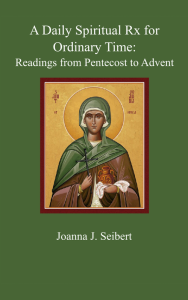 ordained deacon in the Episcopal Church for twenty years. She is the author of numerous books including The Call of the Psalms, a Spiritual Companion for People in Recovery, and Healing Presence. Her newest books include a collection titled A Daily Spiritual Rx for Ordinary Time (September 2020) to which she invited me to contribute an essay on icons. (I was an iconography for a number of years.) Here's my review of this book:
Joanna Seibert has given us a gift in this volume about "ordinary time"—the 29 weeks between Pentecost and Advent. Drawing from diverse Christian traditions and featuring writings by numerous authors and theologians, she shares ways to connect to the holy—in Christ, ourselves, and others—as fellow pilgrims on this journey, including contemplation, imagination, writing, listening, forgiveness, prayer, and being in nature. As an Orthodox Christian, I am honored to have a short piece in this collection: "Praying With Icons."
Joanna was named one of the top 100 women in Arkansas by Arkansas Business for several years. In 2017 she was named to the Arkansas Women's Hall of Fame. She and her husband have three grown children and six grandchildren and have lived in Little Rock for forty-five years.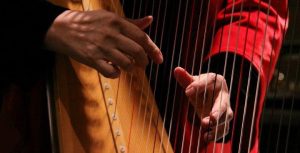 With Joanna's decades of experience in both medical and religious fields, I would have thought she might write about end-of-life issues. Instead , she chose to put a different spin on what an "angel" is by writing about her beloved grandfather. It's also interesting that Joanna is a harpist . . . another image that calls up thoughts of angels. (The photo shows Joanna with her harp.) Here's an excerpt from Joanna's essay:
"My Grandfather, My Angel"
It is rare that I still do not think about my grandfather at some point during the day. He taught me about unconditional love. No, my grandfather was unconditional love. In addition, I know he also saved my life on at least three occasions. . . .

The first time my grandfather saved my life was when we were swimming in the Mattaponi River next to his farm. He had taught me how to swim, and I know I was a good swimmer because I would later swim for hours along the shoreline. This near-miss tragedy occurred when I was early primary school age . . . I suddenly could not stay above water. I think it was high tide, and I had unconsciously gone out beyond the dock where the water was now over my head and panicked when I could not touch the bottom. My grandfather quickly rushed to my side and swam me to shore. I remember later he told me that he as well would have drowned trying to rescue me if he had not been able to save me. I remembered much later how that best described to me the depth of his love.
Want to read about the other two times Joanna's grandfather saved her life? You'll have to get the book and read her essay, and the many other essays and poems (and one short story) inside!