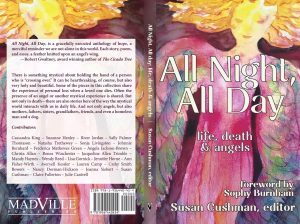 For previous posts on the contributors, see these authors who were all featured in the first section of the book, "Mystics and Messengers."
And from the second section of the book, "Angels Watching Over Me."
From the third section of the book, "All in the Family: Mothers, Fathers, Sisters, and Grandfathers."
From the final section of the book, "Friends"
Next up?
I sometimes wonder if the contributors to the four anthologies I've put together and edited care where their work appears in the book . . . near the first, middle, or end. The answer is that they appear where they FIT . . . which section/category fits their essay or poem. But there's something more at work sometimes. Julie Cantrell is an anchor. You know how they say on NBC that Lester Holt is the "anchor for America?" Well, Julie is the anchor for so many things in the literary world, including mental health, storytelling, and just damn good writing. So it seemed fitting for her essay to "anchor" this collection.
How did we meet? (I love these stories, can you tell?) We shared a freelance editor for our early writing, back when Julie was living in Oxford, Mississippi. Mary Ann Bowen is now in her
90s, and even when she did editing for my first novel Cherry Bomb, she wrote on a legal pad and we met in person for our writing/editing sessions. I was honored to be on a panel with Julie for Cherry Bomb at the first Mississippi Book Festival in 2017, and I have been blessed to have Julie contribute essays to several of my previous anthologies, like A Second Blooming and Southern Writers on Writing. Of course Julie has gone on to be a best-selling author in the big leagues, and I attribute much of that to her special talents. But here's what (part of) her short bio in the back of the book says:
Julie Cantrell is a New York Times and USA TODAY bestselling author, editor, story coach, TEDx Speaker, and ghostwriter whose works have earned literary acclaim across both the general and inspirational markets. Learn more and subscribe for a free monthly dose of joy and positivity: www.juliecantrell.com. (My favorite of her books is The Feathered Bone.)
Her essay for this book is a heartbreaking story about Julie's close friend Heather and her battle with cancer, which she lost as a teenager. Here's a short excerpt:
"Not All Angels Have Wings"
We believed in angels. And ghosts. And all things magical in this infinite universe. Sometimes we'd like on our backs and wish on shooting stars, putting our hopes in the great unknown. Sometimes, while gazing at the heavens and dreaming of distant figures, we'd swear we'd seen a UFO. Nothing could change our minds. After all, we had each other as witnesses. That was our story and we were sticking to it.

Our minds were open, and our hearts were, too, and we were in love with the beauty and wonder of it all. . . . and on more than one occasion we credited our guardian angels for saving us from one of the countless disasters that always seemed to miss us by a very slim margin.

Until they didn't. . . .

Time and again, when prayers and questions go unanswered, when life delivers blows too brutal for words, when loss seems unmeasurable and unmanageable, I think of Heather's unshakeable faith, her claims of having seen Jesus near her bed in those final days, her promise that she wasn't afraid of death and that she wasn't alone in her walk toward heaven. I hear her describing the warm, golden glow and the circle of singing angels who surrounded her.